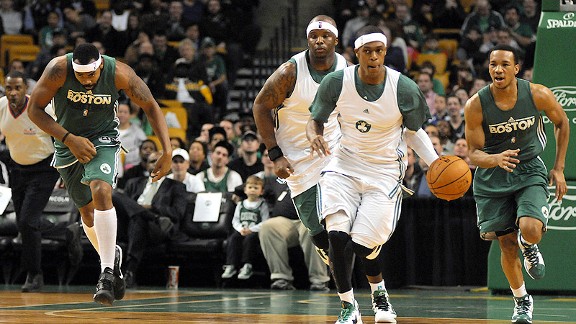 Darren McCollester/NBAE via Getty Images
The Celtics returned to the TD Garden floor Friday night for a scrimmage.BOSTON -- Quick hits after the Celtics engaged in an intrasquad scrimmage Friday at TD Garden:
Bradley delivers the winner
It was only a scrimmage, but Avery Bradley produced one of the biggest moments of his pro career when he splashed a fadeaway jumper at the buzzer lifting the Green team -- also featuring Marquis Daniels, JaJuan Johnson, Chris Wilcox, Keyon Dooling, and Greg Stiemsma -- over the White team -- featuring Ray Allen, Brandon Bass, Jermaine O'Neal, E'Twaun Moore, Rajon Rondo, Gilbert Brown, and Michael Sweetney -- 52-51.
The Green team, which trailed for much of the night, had pulled ahead with 5.1 seconds to play when Chris Wilcox put back a Bradley miss, but second-round draft pick E'Twaun Moore answered with a clutch 3-pointer with 0.8 seconds to play. Unfazed, Bradley got caught with the ball in a late audible and calmly drained the winner as teammate Paul Pierce -- who is nuring a sore right heel and, like Kevin Garnett (sore thumb) and Sasha Pavlovic (left wrist injury) did not participate in the scrimmage -- spilled onto the floor in celebration.
"It was actually supposed to be a lob," said Bradley. "So I wasn't in it at all -- I was just a decoy. But I was open, [Dooling] passed it to me and I just shot it."
Asked the last time he had hit a game-winner, the 21-year-old Bradley said, "Oh, probably middle school."
Rivers loved how the final moments played out.
"I liked the ending," said Rivers. "I liked all the stuff -- the calls and all that stuff was good. You can see how people handle that and get over it. A lot of good things. I'm glad we did this. I wasn't sure about it. But I'm glad we did this. It's so much better than having open practice where you're doing a 3-point contest. I mean we actually got something out of this. This was really good."
The team treated the entire day like an actual game, including staying in the team hotel the night before, having shootaround at the Garden in the morning, and hosting pregame availability in the locker room.
Injury update: X-rays on KG's thumb negative
Rivers said Garnett injured his thumb during practice on Thursday and was held out as a precautionary measure. He is still expected to play during Sunday's exhibition opener in Toronto.
"He hurt his thumb [Thursday] in practice. X-rays were negative, which is good, but we just didn't want to play him today," said Rivers. "He'll play Sunday."
Rivers reaffirmed that Pierce will sit out Sunday's game, but expects him to rejoin practice soon after. Pavloivc got undercut in Wednesday's session and is nursing a wrist injury that further thins wing depth.
"Again, [X-rays were] negative [on Pavlovic]," said Rivers. "He's just got to wait and let it heal. He'll be back soon. But I don't know if that means Sunday or not."
Rest before exhibition opener
Having gone hard since training camp opened last Friday night, and feeling the affects, especially with all the dinged-up bodies, Rivers said he'll ease up on his squad Saturday before trekking to Toronto for Sunday's preseason opener.
"They need a day," said Rivers. "So we're going to come in and watch film -- not a practice. I don't think they're going to have a lot of days [of rest], so we just have to make hay somehow."
Rivers then cracked that he has no idea how to actually make hay, or where that expression came from.