JaJuan Johnson gaining KG's trust
December, 23, 2011
12/23/11
9:04
PM ET
By
Tom Lakin
| ESPNBoston.com
WALTHAM, Mass. -- At a glance,
Celtics
rookie
JaJuan Johnson
looks a lot like
Kevin Garnett
: tall and thin, rangy, all arms and legs. Obviously, there's a lot of NBA real estate between the two players -- one's a rookie, solid in college but largely unproven, and the other is a 16-year league veteran with an enormous championship ring on his finger and a locker waiting for him in Springfield.
Still, standing there watching the two at practice -- Johnson with shoulders hunched, his face clenched in focus; Garnett the teacher, leaning into the rookie, gesturing, pointing, guiding his pupil -- the mind wonders, even if only for a moment, hey, they might really have something here.
If nothing else, it's obvious that Johnson has already earned Garnett's trust -- a big step toward ensuring future tutelage from the notoriously fickle veteran. As coach Doc Rivers has explained, Garnett gives rookies only one chance to accept his teachings. Brush him off at your own risk.
"Kevin is clearly taking JaJuan under his wing," Rivers said. "You guys have been around -- he gives you the one shot and if he thinks you're paying attention, he spends the year around you, and you can see JaJuan obviously has passed the test. Which is good news for everyone, because it makes it a bad year for that guy [if not]."
Watching the two jostle at practice, it seems that Johnson, a Purdue grad, has already aced his final exam.
[+] Enlarge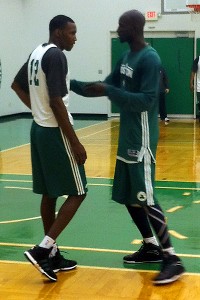 ESPNBoston.comCeltics rookie JaJuan Johnson, left, is benefiting from the tutelage of Kevin Garnett, who has taken the youngster under his wing.
"He's been great," Johnson said of Garnett. "It's really been all things on the court -- anything I have a question about, just breaking down how he thinks about the game and certain situations. It definitely helps.
"I've learned a lot from him defensively -- just watching him, how he moves on the court. I watch pretty much his every move, especially because we're the same position. I just try to pick up little things here and there. But if I have any questions, he's always there to answer questions and that type of thing, so it really helps me."
It can't have been easy for a young player like Johnson -- by nature reserved and, at 22 years old, hardly more than a kid -- to leave his Indianapolis hometown for the churning gristmill that is Boston sports. In fact, going from Purdue -- a school whose most famous alumnus is Neil Armstrong -- to the Boston Celtics was probably a little bit like leaving the Midwest and winding up in outer space.
The Celtics' clubhouse is more lion's den than locker room, and a soft-spoken guy like Johnson can get devoured. And yet Johnson, asked if he's been at all intimidated during his short time in Boston by Garnett's legendary intensity -- or worse, his infamous flair for the well-timed cutting remark -- the rookie demurred.
"You definitely hear things, I guess, before I met him," Johnson said. "But part of being a man is just forming your own opinions and seeing it for yourself. And obviously I've seen good things from Kevin and he's been a great help to me."
Johnson brings a distinguished college career with him to Boston. As a senior, the 6-foot-10, 221-pound forward/center was a consensus All-American, only the 17th player in Purdue history and the first since 1994 to earn that honor. In his senior season, Johnson averaged 20.5 points, 8.6 rebounds and 2.3 blocks, while adding an average of 15 rebounds in two NCAA tournament games, enough to tie for the tourney lead.
After the season, Johnson was named Big Ten Player of the Year and Big Ten Defensive Player of the Year. He was first-team All-Big Ten. He won the Pete Newell National Big Man of the Year award and was a finalist for the Naismith, Wooden and Robertson trophies. Then, earlier this month, just days before Johnson's new team began a shortened training camp, his gold-and-black Boilermakers jersey was raised to the rafters of Purdue's Mackey Arena -- Christmas come early for the big man.
Still, it's a long way from the cornfields of Indiana to Madison Square Garden, where Johnson will find himself just two days from now. Professor Garnett can only prepare you for so much. And on Sunday, if Johnson sees the floor in his very first game as a Celtic, he'll have another scary superstar to contend with -- six-time All-Star
Amare Stoudemire
. But Johnson, ever the quiet optimist, says he's looking forward to the challenge.
"It'll be great," Johnson said. "Just to be able to play against the Knicks on Christmas Day, it doesn't get hardly any bigger than that. And my family will be coming out, so it will be just a great experience to share with my family and everybody else."
Johnson did admit that, yes, Sunday's game will be a little different than what he's used to.
"It's a huge change," he said.
Johnson might as well be referring, not only to the Christmas opener, but to everything he's facing these days -- the leap from the Big Ten to the NBA, the speed of the pro game, fitting in with new teammates, the demands of the fans, the huge crowds, the bright lights, the sheer magnitude of professional basketball in this country, even the early, intense patronage of a surefire Hall of Famer like Garnett.
And yet "huge change" is as far as Johnson will go. Pushed further -- on his fears, on his teammates, on the endless expectations of a rabid Boston fan base -- Johnson merely shrugs and says that everything is great. Garnett is great, Boston is great, playing on Christmas is great -- it's all great and he's excited to get under way.
The kid sounds like a veteran already.
PODCASTS
Barry Melrose, NHL
Play Podcast ESPN NHL analyst Barry Melrose talks about big wins for the Bruins and Sharks on Thursday night and compares the end of Wayne Gretzky's career to the end of Michael Jordan's career.
Broussard And Virk On Another Gronkowski Surgery
Play Podcast Adnan Virk and Chris Broussard discuss another surgery on Rob Gronkowski's broken forearm and wonder if Gronkowski's inability to heal from this injury is a red flag for the rest of Gronkowski's career.
Russillo And Virk On Bruins Over Leafs
Play Podcast Ryen Russillo and Adnan Virk discuss the Bruins' incredible comeback against the Leafs, put the game in historical perspective and talk about how crushing the loss is for the people of Toronto.