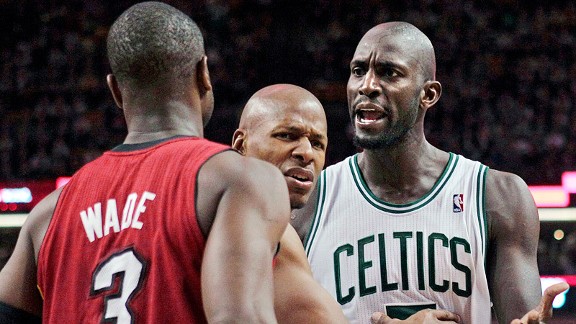 AP Photo/Elise Amendola
The Celtics and Heat renew acquaintances Tuesday night in Miami.Celtics-Heat has been an intense rivalry, but after last season's playoffs the C's need to prove they still can stoke the flame:
One game does not a rivalry make.

So as entertaining, intense and chippy as Sunday's Celtics-Knicks battle was to usher in the 2011-12 season on Christmas, that's not a rivalry again quite yet. Let's see the Knicks win the Atlantic Division or a playoff series against Boston before we give it anything more than an enmity tag, considering how long it's been since both teams were legitimate contenders in the same season.

Now, Celtics-Heat? Yeah, that's got the "R" word written all over it.

Remember, the Celtics were defending Eastern Conference champs last season, having knocked off both Dwyane Wade and the Heat and LeBron James and the Cavaliers en route to the NBA Finals during the 2009-10 campaign. That summer, the Heat put together its own Big Three and went on to knock Boston out of the playoffs in May en route to taking over the conference throne.

Boom, rivalry. Two teams competing for the same objective, each with a legitimate chance of obtaining it.

That rivalry will be resumed on the national stage Tuesday at AmericanAirlines Arena when the Heat -- fresh off a season-opening rout of the defending NBA champions, the Dallas Mavericks -- host the Celtics (8 p.m., TNT).

Boston players weren't quite in the mood to talk about their next challenge after Sunday's loss in New York. But make no mistake, the Celtics will be amped for this one.
Hop HERE to read the full story.