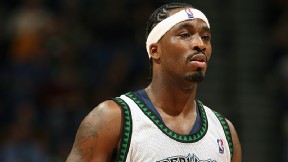 David Sherman/NBAE via Getty Images
Ricky Davis with the Timberwolves.One year after old friend Antoine Walker gave the D-League a whirl in hopes of resuscitating his NBA career, former Celtics swingman Ricky Davis has signed on with the Maine Red Claws. From the team:
Davis, 32, has played in 736 NBA games in a career that began in 1999 as the first round selection (21st overall) of the Charlotte Bobcats. His 12-year NBA career saw him play for six NBA teams, including three seasons with the Boston Celtics. The Celtics traded the high-scoring swingman on January 26, 2006 to the Minnesota Timberwolves along with Marcus Banks, Mark Blount, Justin Reed, a 2006 second-round draft pick (Craig Smith) and a 2008 second-round draft pick (Nikola Pekovic) for Dwayne Jones, Michael Olowokandi, Wally Szczerbiak and a 2009 first-round draft pick (Jonny Flynn). He scored a career-high 20.6 ppg in 2002-03 as a member of the Cleveland Cavaliers. Davis last played in the NBA for the Los Angeles Clippers during the 2009-10 and has spent the last season and a half playing abroad in France, Turkey and China. Once considered a one-dimensional yet prolific player, Davis has developed into a formidable rebounder and steady mid-range jump shooter over the years.

"Ricky Davis brings a veteran element to the Red Claws and will undoubtedly become an instant fan favorite at the Portland Expo where many of our fans will remember him from his days with the Celtics," said Red Claws president and general manager Jon Jennings. "Ricky is someone who knows what it takes to get to and stay in the NBA and is someone who is hungry to return there. We are all excited to welcome him to Maine."

Davis is expected to join the team in Canton, Ohio where they will face the Canton Charge [Thursday] night in the second game on a two-game set. He will make his Maine debut this weekend as the Red Claws host the Rio Grande Valley Vipers on Saturday, Dec. 31 at 1 p.m. and Sunday, Jan. 1 at 5 p.m.