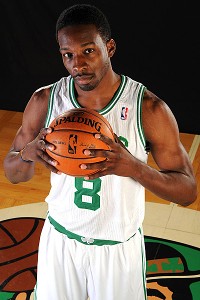 Brian Babineau/NBAE/Getty
Jeff Green on media day this year.BOSTON -- Just two weeks after undergoing surgery to repair an aortic aneurysm, Jeff Green visited with his former Celtics teammates Monday, offering some perspective as the Celtics battle through minor injury woes early in the 2011-12 season.
"It was awesome, it was great," said Rivers. "We kidded around a lot. We brought him in in the morning, at the [team] breakfast [before shootaround], and it's really cool. I'm amazed, obviously, that two weeks ago [he had surgery] and he's walking around and he looks normal.
"Obviously, because some of us are sarcastic, we made a mention that he's walking around and, '[the Celtics injured guys] can't play. How tough are you?' And the guys got a big kick out of that. It's good to see him. He's a good kid, really good kid. The best news of the day is that he'll be able to play again. At least right now that's what they're saying. And that's unbelievable."
Green, who had been back home near the nation's capital since undergoing surgery Jan. 9 at the Cleveland Clinic, actually traveled back to Boston as the Celtics visited with the Wizards on Sunday. Instead, he dropped in on his former teammates Monday morning at shootaround in Waltham and came by the Garden again in the evening.
Green politely turned down media requests (though he did mention he's back at Georgetown working on finishing his degree with two English classes left to take), but went around the Celtics' locker room greeting teammates and staff members before departing.
Rivers said last month that Green is 'a part of the team' this season and said he hoped the Celtics could present him with a championship ring if they accomplished their ultimate goal.