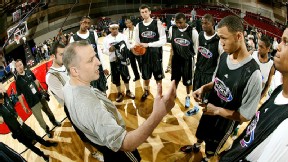 Joe Murphy/Getty Images
Tom Thibodeau as an assistant coach of the East All-Stars while with the Celtics.CHICAGO -- With Tom Thibodeau tasked with coaching the Eastern Conference All-Stars later this month -- a role Boston coach Doc Rivers often begrudgingly endured by virtue of the Celtics' early season success during the Big Three era -- his old boss couldn't help but have a little fun at his expense as Rivers prepares to pass the All-Star coaching baton.
"I think he's going to run the hell out of them. I think he's going to have a good speech for them, they're going to have a hard practice," Rivers joked, playing to the perception of Thibodeau as a no-nonsense helmsman. "No, Thibs will be great. A lot of people keep thinking things about Thibs, and he keeps doing the right thing. Thibs is a terrific coach, a great coach.
"He'll have fun. I told him, 'I'll be in town and don't call me.' But he'll be great. Thibs has been through this... In the New Orleans game [in 2008], if my memory serves me right, [Rivers' assistants] Thibs, Kevin Eastman, and Armond [Hill], they were killing me over winning. Because [the payout] is double for the winning coaching staff. And Thibs, in the fourth quarter, he kept saying, 'Hey, we want to win this game! Don't you forget it.' He kept saying that in my ear. I wonder if he'll do the same now that he's the head coach. I think he will, if I know my Thibs."
Rivers, who often limited the playing time for his veteran players while coaching the All-Star game, joked that Thibodeau should go in the opposite direction with Chicago's representatives.
"If I was Thibs, I would play [Luol] Deng and [Derrick] Rose at least 47 minutes," said Rivers. "I think that would be terrific."