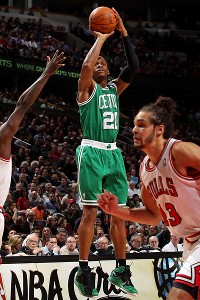 Gary Dineen/NBAE/Getty Images
Ray Allen showed signs of breaking out of his recent shooting funk.CHICAGO -- Anyone else might have stopped shooting, but as Celtics coach Doc Rivers loves to point out, what makes Ray Allen great is that he always thinks the next shot is going to go down -- regardless of how many before did not.
Allen, who entered Thursday's tilt against the Bulls already battling a little 7-for-22 shooting funk over the previous three games, missed the first seven shots he put up in Chicago. That included a trio of attempts in less than a minute span late in the second quarter of Thursday's game. Most players would have just called it a night and tried to work out the kinks in an empty gym.
Allen kept firing away and was a big reason the Celtics were able to claw their way back into the game.
"I'll jump in there when the plays comes," said Allen. "One thing about me, I'll never stop shooting."
After Paul Pierce stated strong, this coming off his own shaky performance the night before against the Pistons, it was clear the Celtics were trying to get Allen going next. The Bulls made things difficult early on, but Allen finally got a clean look midway through the first quarter, only to have a triple from the right wing rattle out.
From there, he couldn't stop catching front rim, with all three of his second-quarter jumpers coming up short, while a layup attempt in transition was a bit too strong. He missed two more shots early in the second half and his confidence should have been rattled.
Finally, after Chris Wilcox couldn't get up a shot off a halfcourt lob from Rajon Rondo in transition, the ball kicked back out to a trailing Allen who splashed a 3-pointer from the right wing. And just like that, the Bulls couldn't turn him off.
Allen added two more trifectas off the dribble, aiding the Celtics in rallying ahead briefly in the fourth quarter. The Bulls simply did a better job of denying him shots in the final frame (he attempted just two shots, including one at the final buzzer).
"It's good to see him make some," said Rivers. "No matter how great of a shooter you are, when it's not going in, you need to see it go in. We freed him up in the second quater, two times in a row, two point-blank [looks] and they didn't go in. But he kept shooting and finally got some to go in, and that got him going on."
Allen admitted he liked the shots he got in the first half, he just didn't think he was in a good rhythm, maybe in part from a lack of overall touches as the Bulls followed the recent pattern of opposing teams swarming him when he gets the ball.
"I just think it's one of those things where, in the first half, it seemed as if I just didn't have a great rhythm," said Allen. "The way the ball came off, I still think I had great looks... I didn't have a great rhythm. The second half came and the ball came to me and I wasn't worried about it."
Despite his recent struggles, Allen is still averaging a whopping 1.095 points per play this season and, according to Synergy Sports data, that ranks him in the 95th percentile among all players. The Celtics do need to do a better job of getting him cleaner looks and their screening has seemingly deteriorated a bit recently, forcing him to create more off the dribble instead of simpler catch-and-shoot situations.
Maybe this will hammer the screening point home: When the Celtics get Allen unguarded looks in catch-and-shoot situations, he's averaging 1.493 points per play and shooting a ridiculous 55.2 percent in those situations. But if his defender is able to slip through and pressure the shot even a bit, Allen is averaging a mere 0.925 points per play and is shooting just 32.1 percent.
It's on Boston to give him that separation to thrive. That alone will go a long way towards alleviating the offensive deficiencies they've displayed at times during recent games.