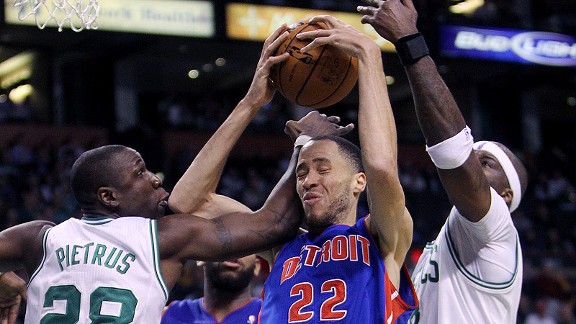 Barry Chin/The Boston Globe/Getty Images
The Celtics and Pistons meet again, just four days after a battle in Boston.Stumbling towards the All-Star break, the Boston Celtics (15-14, 4-6 away) visit the Detroit Pistons (10-22, 7-10 home) on Sunday evening at The Palace of Auburn Hills (6 p.m., CSN). Boston will be looking to avenge a 98-88 loss Wednesday night at TD Garden. To preview the rematch, we go 3-on-3 with ESPN Boston's Greg Payne and CelticsHub's Brian Robb.
---
1. After Wednesday's loss, what's one thing the Celtics have to do better against the Pistons on Sunday?

Payne: Rebound better. The Celtics were out-rebounded 44-33 on Wednesday, which, without a doubt, contributed to them giving that game away. Having Kevin Garnett back should help in this area, as limiting Derroit to single-digits in offense rebounds will go a long way towards the C's creating transition opportunities and easier looks offensively.
Robb: Defend Ben Gordon. The sixth man lit the C's up in the fourth quarter to the tune of four 3-pointers, with the majority of those shots coming on wide-open looks. The outburst helped Detroit take command of the game, and could be resolved with some simple awareness in Boston's defensive rotations. Gordon needs to be a priority as he's the guy that can hurt you the most off the pine.
Forsberg: Do we really have to chose just one? Wednesday's effort was downright atrocious as Doc Rivers admitted Thursday in Chicago. Offensively, the ball stuck and the team looked lifeless; Defensively, there were a number of head-slapping moments (including the woes you guys mentioned on the glass and not defending Gordon in the fourth quarter). The Celtics need to play like a team that knows it's better than their opponent and establish that dominance early on. You can't let an inferior team hang around or they'll get confident and steal the game, just like the Pistons did the other night.
---
2. The Celtics haven't been afraid to play some zone defense this season. Love it, hate it, or indifferent?
Payne: Indifferent. The Celtics, so far, haven't been very calculated in their use of the zone. Doc Rivers has said in the past that he's not a fan of zone, but he's resorted to it almost out of necessity at times this season to get his team back into games. I don't think it's the Celtics' best bet defensively, only because teams eventually figure it out and break it down easier than they do a man-to-man defensive set.
Robb: I like it, but am not crazy that Rivers usually brings it out when his team is far behind. It's helped Boston produce some big comebacks that have fallen short against Miami and Chicago, as these talented squads eventually started to solve the setup, the longer the C's played it. I'd like for it to be integrated a bit more into the team's normal game plan more, so the team can switch back and forth between man and zone regularly to keep opposing offenses on their toes.
Forsberg: Right now it's seemingly more of a gimmick than a weapon, but I think anything you can do to diversify your attack at either end of the floor is a good thing in the long run. Clearly Boston is going to lean on it's typically stout man-to-man philosophy, but I like the idea of using the zone as a curveball at times, especially when we've seen teams struggle with it initially (plus, it's something else for teams to game plan for). Sure, this isn't football, where a defensive wrinkle can really mess with an opponent on a game-to-game matchup, but just having different resources in its toolbox will aid Boston over the long haul.
---
3. Losers of four of their last five, what's the biggest concern right now for the Celtics?
Payne: The offense. I'm still looking for the Celtics to re-establish a sense of balance. Ray Allen's field goal attempts have been up and down all season and Rajon Rondo seems to be struggling a bit with how to get his own offense while keeping others involved. I think the C's need to get back to Paul Pierce and Allen taking the most shots, closely followed by Garnett, while Rondo plays the role of magician distributor.
Robb: The offense. It's been the biggest concern for this squad over the past three years and now it's a larger issue than ever. It starts with the turnovers, but now this team is not performing as well in other areas on the offensive end, making the wasted opportunities look even more daunting. Boston needs to show they can build some consistency on this end of the floor and a strong performance against a subpar defensive team like Detroit will be a good place to start.
Forsberg: It's funny you guys say that, because the Celtics continue to stress that their biggest concerns are on the defensive end with the idea that not getting stops (or allowing second-chance buckets) is hurting their ability to get in transition and generate easy buckets in transition. But clearly the team needs to figure out a way to be more consistent with its halfcourt offense and the priority there has to be eliminating some of the jumpers they've fallen in love with. Boston needs a renewed priority on post offense (cementing Kevin Garnett there at times if need be), while Paul Pierce and Rajon Rondo have to continue to be aggressive towards the hoop to keep the free throw attempts high. Boston simply can't count on hitting 45-50 percent of its jumpers on a nightly basis, especially against the better teams in the league.