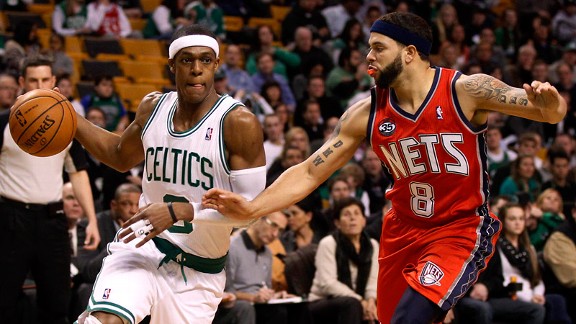 David Butler II/US Presswire
A headbanded Rajon Rondo drives on Deron Williams Friday night.BOSTON -- Rapid reaction after the Boston Celtics defeated the New Jersey Nets 107-94 Friday night at TD Garden:


HOW THE GAME WAS WON
Paul Pierce produced his finest shooting night in weeks and Boston played its finest game in that same span as the captain's 27 points on 10-of-14 shooting propelled the Celtics to a breezy win. Pierce added eight assists, four rebounds and a block over 31:46. Kevin Garnett chipped in 20 points and 10 rebounds, while Rajon Rondo kicked in 14 points, 13 assists and five steals for the Ray Allen-less Celtics. Old friend Gerald Green -- with the Nets on a 10-day contract -- registered 11 points and a handful of jams over 25 minutes for New Jersey, who got a game-high 28 points from Brook Lopez.
TURNING POINT
It took the Celtics less than five minutes to build an 11-point lead and it was never a one-possession game the rest of the way. Even still, the Nets had whittled that lead to four with seven minutes to play in the second quarter before Boston blew the hinges off the door. Mickael Pietrus (twice), Chris Wilcox and Garnett highlighted a layup line as the Celtics scored 14 consecutive points (and 18 of 19 overall) while opening a 52-31 lead with little more than two minutes to play in the first half. The Celtics turned the ball over just twice (for no points) before the intermission.
GINO TIME AT THE GARDEN
Boston's favorite American Bandstand groover made a rare appearance, serenading the crowd with the Celtics on top 103-86 with 2:03 to play. Garnett gave Mickael Pietrus a rundown of all his favorite moves, then was hilariously shown on the JumboTron taking great pleasure in one of his favorite moves at the end of the clip.
WHAT IT MEANS
The Celtics (18-17) have won three in a row and have crawled back above .500 in time for Sunday's next Atlantic Division showdown with the New York Knicks (yes, Linsanity is about to invade the Garden; the Celtics were the last team spared before Jeremy Lin's emergence). The Celtics shot 51.7 percent on Friday and -- outside of a turnover spree early in the second half -- really played phenomenal ball. Yes, it was against an 11-win Nets squad, but one that's at full health now. It's still an encouraging showing for the Celtics. At a time when Boston needs to build confidence and momentum, it is doing just that.