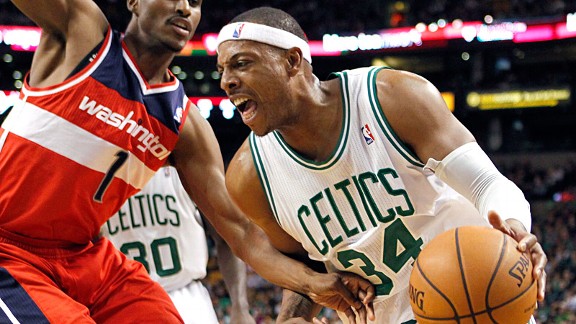 AP Photo/Michael Dwyer
Paul Pierce and the Celtics ran away from the Wizards early on Sunday evening.BOSTON -- Rapid reaction after the Boston Celtics defeated the Washington Wizards 88-76 Sunday evening at TD Garden:


HOW THE GAME WAS WON
A sprained left ankle suffered in Friday's loss to the 76ers couldn't detour Avery Bradley, who started in place of ankle-ailed Ray Allen and put on an Allen-like performance by scoring a career-high 23 points on 9-of-14 shooting (he even hit his third career 3-pointer). Paul Pierce overcame a slow start to chip in 21 points, 8 rebounds, and 3 assists over 31 minutes (undoubtedly spurred by news that his Kansas Jayhawks had knocked off the University of North Carolina to make the NCAA Final Four). Greg Stiemsma chipped in 10 points and 7 rebounds to aid a solid bench effort. Jordan Crawford paced the Wizards with a team-high 20 points on 8-of-18 shooting.
TURNING POINT
It took less than four minutes of game time for the Celtics to build a double-digit lead (13-2, 8:10) and Bradley provided the spark, connecting on all seven shots he took while pouring in 15 first-quarter points. That was enough to outscore the Wizards on his own as Boston led 27-12 at the end of the frame.
BENCH MOB AIDS ATTACK
Even with Allen (ankle) and Mickael Pietrus (concussion) out of action and Bradley thrust into the starting role, the bench still gave Boston a rare boost. Stiemsma, Marquis Daniels, Keyon Dooling, and Ryan Hollins were a combined 7-of-8 shooting for 16 points in the first half. The Big Four before the intermission? They combined for a mere 7-of-17 shooting for 18 points.
BOLD PLAY OF THE GAME
Maybe hammering home just how much this night belonged to him, Bradley produced maybe the most noteworthy bucket off a broken fastbreak. Rondo registered a steal and broke out with Brandon Bass (Bradley trailing the play). Rondo tried to dish it back to Bass, but the ball got tipped by a Wizards defender, only for Bradley to leap up and bank it in with a defender draped all over him giving Boston a 21-8 lead in the first quarter.
WHAT IT MEANS
Let's be honest, it's a win over the Wizards, who were playing without newly acquired big man Nene (and with fellow big man Andray Blatche banished to parts unknown), so it's hard to get overly excited. But with a daunting schedule looming in April, a win is a win for the Celtics (who remain on the heels of the 76ers with 18 games to go). Boston could have made its an easier night if the starters hadn't sleepwalked through much of the second half, particularly with the always daunting second night of a back-to-back looming Monday in Charlotte. But the positives outweigh the negatives. Heck, newcomer Ryan Hollins even got 13 minutes of floor time (chipping in 3 points and his first rebound with the team).