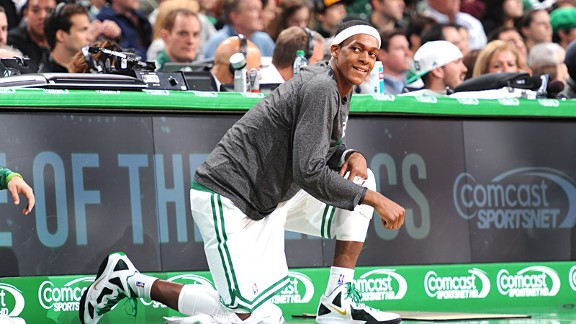 Brian Babineau/NBAE/Getty Images
Rajon Rondo prepares to check in against the Wizards.BOSTON -- Celtics point guard Rajon Rondo matched a career-high with his ninth straight game with double-digit assists as he handed out 11 helpers in Sunday's 88-76 triumph over the Washington Wizards at TD Garden.
Rondo now has 117 assists (13 per game) in that nine-game span, matching a nine-game stretch he produced during the 2010-11 season, according to Elias Sports Bureau. During this recent stretch, however, he's had only one game with more than 12 points -- a 24-point effort against the Lakers to kick off an eight-game road trip -- and has attempted only 70 shots over his last eight games (8.8 per contest; 11.5 is his season average).
Which begs the question, is Rondo passing up shots lately?
"How long have you been here," Rivers quipped with a laugh when a reporter asked that query after Sunday's win. "No, it has nothing to do with health, it's just Rondo."
So how does Rivers feel about the recent downturn in shot attempts?
"When we win I feel good about it," said Rivers. "When I brought him in in the fourth [quarter] I said, 'Rondo, go to score.' Some of it is, he enjoys getting other guys involved. But we had the breaks where... he should have gotten to the basket and we didn't and they all turned into turnovers. If I was a teammate, I'd love it, because you know you'll get the ball."
Rondo took four of his five shots in Sunday's game in the fourth quarter, scoring all four of his points in the frame. It's hard to argue with the results, however, as Rondo handed out eight of his 11 assists in the first half when Boston built its 25-point cushion. He did commit five first-half turnover and got a little too lob happy at times with the big lead.
Home just another stop on road trip
After sleeping in their own beds for the first time in two weeks after Friday's loss in Philadelphia concluded a season-long eight-game road trip, the Celtics didn't allow themselves to get too comfortable. In fact, Rivers joked that Sunday's game was more like a road game given 1) How long the team had been away from the Garden and 2) How quickly they had to head back out.
The Celtics caught a midnight flight to Charlotte Sunday in advance of Monday's visit to the Bobcats. Boston returns home for a game against the Jazz on Wednesday, then goes out yet again to visit Minnesota on Friday. The Celtics can finally unpack after that with five straight days at home after that.
"We told them we're not at home, we're on the road still," said Rivers. "I told them, we come home for one day, we play [Monday], so we're still on the road. The road trip ends after the next [road] game, the way we look at it."
Even with all the support they encountered on the road, captain Paul Pierce admitted it was nice to have the crowd's full support for a change. He needed the lift after coming out of the gates sluggish in the first quarter.
"I was actually kind of tired to start the game," said Pierce. "You know, usually that first game is a rough one but you just try to get your body back adjusted to the time zone, to our home court. When you haven't played on this court in two weeks it feels like an away game. But our crowd did a good job of keeping us in it, and we got off to a great start. That was the key, especially coming off such a big trip when you have a lot of letdowns and lulls, but we responded well."
Loose Balls: No Nene for Wizards
* Wizards newly acquired big man Nene sat out Sunday's game due to back spasms, but Celtics coach Doc Rivers likes the trade that brought him to Washington. "I think it's a great trade for them," said Rivers. "They have a consistent low-post scorer. They have a guy that, he takes care of the ball and plays the right way. I think they needed that, they needed a veteran. Forget all the other stuff, they needed a veteran on that team and in that locker room. I think that was a heck of a trade for them."
* Nene did make the trip to Boston and said his back really tightened up after Saturday's loss in Atlanta. "The last two days I started feeling it a little bit, but [Saturday], before the game it was tight. But after the game, I felt like an old man. My back was really sore in the locker room. It was pretty tight, and this morning it was shut down. I did massage, I did physical therapy, and when I got here I did a couple exercises, and it was really hard for me."