Rapid Reaction: Celtics 100, Wolves 79
March, 30, 2012
3/30/12
10:31
PM ET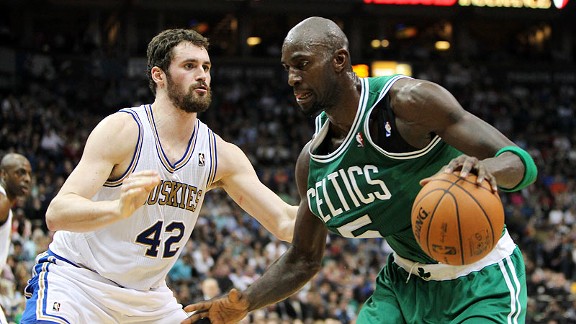 Brace Hemmelgarn/US PresswireKevin Garnett at work against his former team on Friday night in Minnesota.
Rapid reaction after the Boston Celtics defeated the Minnesota Timberwolves 100-79 Friday night at the Target Center:


HOW THE GAME WAS WON
Kevin Garnett made the most of a return to his old stomping grounds, scoring a game-high 24 points on 12-of-18 shooting with 10 rebounds, 4 assists, and a block over 34:10 (all while limiting Kevin Love to a modest 22-point, 11-rebound effort). Paul Pierce added 21 points and 9 rebounds, while Avery Bradley produced another stellar spot start in place of Ray Allen, kicking in 17 points on 6-of-9 shooting. Luke Ridnour chipped in 15 points and 8 assists to help Love pace the Timberwolves.
TURNING POINT
Maintaining a recent pattern, the Celtics came flying out of the gates and established a comfortable early cushion (going against the grain, Boston never gave it up). Rajon Rondo had five assists on the team's first seven buckets and Boston's lead was at double digits in just 6½ minutes. Boston didn't let up, shooting 56.5 percent in the first quarter (13 of 23 overall) and building as much as a 14-point cushion. The Wolves never got closer than six the rest of the night.
BOLD PLAY OF THE GAME
With five minutes to go in the third quarter, Rondo flipped the ball to Brandon Bass near the top of the arc. Putting the ball on the court can lead to mixed results with Bass, but he stormed the lane against two Minnesota defenders, then dunked viciously over rookie Derrick Williams. The bucket put Boston on top 71-55. Bass finished with 12 points and 6 rebounds (still finding a way to generate buckets when his jumper wouldn't fall).
PUT A BLUE RIBBON ON THE CELTICS
The Celtics weren't the only team winning by 21 on Friday night. The 76ers got throttled by the Wizards by the same spread (97-76) and, as a result, the Celtics shuffled into sole possession of first place in the Atlantic Division. For the moment, Boston also leaps to the No. 4 seed in the Eastern Conference (the real prize for the division champ), something that would ensure it home-court advantage in the opening round of the postseason. April's schedule is daunting, however, and Boston has its work cut out to stay atop the division.
RONDO'S STREAK CONTINUES
Another night, another double-digit assist effort for Rondo. This time out he piled up 17 assists and has now reached double digits in assists for the 12th straight game. Those 17 dimes match Rondo's high during the stretch (he also had 17 vs. Philly last Friday) and he's averaging 13.4 assists per game. Rondo had 12 assists and 0 turnovers at halftime, finishing with just two turnovers overall.
TO THE EXTREME I ROCK THE MIC LIKE A VANDAL
This happened at halftime
. Watch your backs,
QuickChange
. Word to your mother.
WHAT IT MEANS
This is about as breezy as it gets for Boston. Typically the Celtics let the opposing team make a run despite an early lead, but it never happened. Garnett seemed particularly inspired playing in Minnesota, while Rondo quarterbacked a brilliant game. The Celtics continue to thrive with Bradley in the lineup, improving to 9-1 this season when Ray Allen doesn't play (including 4-1 since Allen has been sidelined by this sore right ankle). Now the schedule gets difficult, with games next week against Miami, San Antonio, Chicago, and Indiana. It starts Sunday with a national TV battle against the Heat at TD Garden. Buckle up, it's going to be a wild final month of the regular season.
PODCASTS
Adam Schefter, NFL
Play Podcast ESPN NFL Insider Adam Schefter weighs in on the Panthers' WR situation, Julian Edelman's future with the Patriots, Vince Wilfork's decision to ask for his release and more.
Spanning the Globe: 3/13
Play Podcast "Spanning the Globe" features ESPN Boston's Mike Reiss, Yahoo! Sports' Eric Edholm and ESPN LA 710's Mark Willard.
John Farrell, Red Sox
Play Podcast Red Sox manager John Farrell talks about whether he expected his team to make such a turnaround in one season, his relationship with his players, fans' expectations for the squad and more.