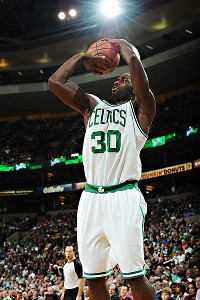 Brian Babineau/NBAE/Getty
Brandon Bass prepares to shoot Sunday vs. Philadelphia.BOSTON -- Celtics forward Brandon Bass missed all six shots he attempted over 34 minutes on Saturday night in Indianapolis, the only game this season he's failed to register a field goal. In fact, it's the first time in his seven-year career that he's played at least 18 minutes without making a shot.
His teammates, of course, were less than sympathetic to the moment. Allow coach Doc Rivers to explain.
"Like I keep saying, our locker room is great, I don't know how many people kidded him about it," Rivers said. "Even today in shootaround, we were going over a play and I was saying, 'Brandon, you'll be open' and the whole team [joked], 'If he can make a shot.' So you've got to have thick skin."
Despite the friendly razzing, Bass quickly brushed aside his shooting woes and responded by scoring 18 points on extremely efficient 8-of-10 shooting with six rebounds and a block over 33:18 in Boston's 103-79 thrashing of Philadelphia on Sunday night at TD Garden.
Bass' eight field goals were one shy of his season high (he had nine in his Boston debut in New York on Christmas and posted eight on three other occasions). He's rarely been this efficient since coming to Boston, only topping 70 percent shooting one other time this season (he connected on 5 of 6 shots in a win over the Los Angeles Clippers last month).
Bass smiled as a reporter asked about the friendly teasing from teammates and said, "We've got a veteran group. All the guys in here, they've had nights like last night. They understand. And they know the type of player I am, that I'd bounce back."
Echoed Rivers, "Everybody laughs it off, and Brandon was ready. You could see him preparing before the game for a shot. These shooters know when they don't make shots."
Bass swears that he actually toned things down so as not to overthink one night of struggles.
"I did a little less preparation," he said. "Sometimes I'll be overdoing it with my workouts before the game, but I cut back a little bit today and it paid off for me."
While Bass' efforts sometimes blend into the scenery as he runs with the first unit, it's hard not to notice the impact he's made since becoming a full-time starter in the second half of the season. In the 23 games since that point, he's averaged 12.8 points on 47 percent shooting and played extremely steady defense while shouldering a load in an injury-depleted frontcourt.
All of which allows his teammates to bust his chops a bit when he has the rare off night. Considering how Bass rebounded, he can probably expect more ribbing the next time his shots won't fall.