Second-unit defense has been first rate
April, 8, 2012
4/08/12
11:22
PM ET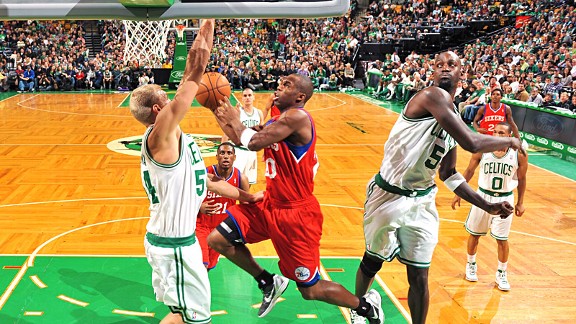 Brian Babineau/NBAE/Getty ImagesKevin Garnett and Greg Stiemsma protect the rim for Boston's defensive-minded second unit.
BOSTON -- When the
Boston Celtics
shifted
Ray Allen
to a bench role last week, the idea was to generate more offense from a reserve unit that has struggled to put points on the board. Go figure, Boston has thrived the last two games because its bench defense has been otherworldly.
The second-unit combination of Allen,
Avery Bradley
,
Sasha Pavlovic
,
Kevin Garnett
and
Greg Stiemsma
combined to outscore Philadelphia by 19 points in Sunday night's 103-79 triumph at TD Garden. It was that group that stretched a 3-point first-quarter edge into as much as a 19-point second-quarter cushion, then came back as a unit in the fourth quarter and slammed the door on the 76ers.
Overall, that second unit outscored Philadelphia 27-6 in 11:59 of floor time. All this coming one night after outscoring the Pacers 21-7 during 11 minutes of action, highlighted by a similar start to the second quarter in which Boston built a double-digit lead.
Sure, the Celtics have found a nice offensive rhythm with the unit, particularly with Allen as the focal point. But over the first six minutes of the second quarter in each of those games, opponents were a combined 1-of-24 shooting (Indiana was 0-for-11, Philly was 1-for-13).
"The last two games, really, the defense has been just great intensity," Celtics coach Doc Rivers said. "I thought we had active hands. I thought the second unit in the second quarter was as good as you can get."
Echoed captain
Paul Pierce
, "I thought the first unit set an offensive tone, but the second unit really set the defensive tone in the second quarter. It was really an offensive battle, but the second unit came in and really set the tone defensively, holding them down, building up a lead, and we just never looked back."
Few could have envisioned this lineup even just a few weeks back. But even with quarterback
Rajon Rondo
off the court, Boston's second unit is finding ways to thrive. Having a fresh Allen aids that process, but its the confluence of defensive-minded players (Garnett, Bradley, Pavlovic and Stiemsma) that fuel the unit by getting multiple stops, which takes pressure off the second unit to score each trip down.
The end result? Two wins in a row highlighted by the new-look second unit.
Bradley, who has brought additional defensive energy to the first unit since moving into a starting role last week, said it's all about the intensity with the reserve group.
"When the second unit comes in, that's our main focus, just come in and bring more energy than the first unit -- that's not to say the first unit doesn't, but we try to match that intensity or play harder," Bradley said.
It's a scrappy group and it's frustrating opponents. The second quarter used to be where good starts went to die for Boston, now the Celtics are using them to put their foot on opponents' throats.
PODCASTS
Baseball Tonight
Play Podcast Karl Ravech and Justin Havens put Clayton Kershaw's scoreless innings streak in perspective with Buster Olney and discuss the rash of injuries around MLB. Plus, Derrick Goold on Yadier Molina's injury and Alex Speier on the Red Sox.
Baseball Tonight
Play Podcast Buster Olney and Tim Kurkjian discuss the rosters for the Home Run Derby, Jon Lester's future and more. Plus, Indians P Corey Kluber on his All-Star candidacy and Tigers P Joba Chamberlain.