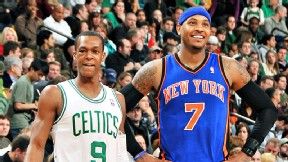 Steve Babineau/NBAE/Getty Images
Celtics vs. Knicks on Tuesday night at MSG.ESPN.com's 5-on-5 takes its latest look at which teams are contenders or pretenders and the decision on the Boston Celtics is unanimous:
* Jim Cavan, Knickerblogger: Contender. Many had the aging Celts dead and buried at the All-Star break, but a well-timed run -- buttressed by an increasingly vise-like defense, Kevin Garnett's rejuvenation and two beatdowns of the Heat -- makes this incarnation of the Celtics dangerous heading into the postseason. With the added rest the playoffs provide, anything's possible for Doc's squad.

* D.J. Foster, Clipperblog: Contender. Call them old all you want, but Boston gets after it defensively like no other team in the league. With Avery Bradley and Rajon Rondo swarming ballhandlers and Kevin Garnett doing his usual mad man routine, the Celtics can blow up the gameplan of even the most potent offenses.

* Tom Haberstroh, ESPN.com: Contender. The Celtics have been far and away the league's top defense since the All-Star break. Though their offense has been decidedly mediocre, it should improve as Ray Allen gets his legs underneath him. If they can maintain their otherworldly defensive attack, the Celtics can reach the Finals by strangulation.

* Amin Vafa, Hardwood Paroxysm: Contender. Remember when everyone used to say "Don't count the Spurs out?" That reputation now belongs to Boston. The Celtics love playing slow, grind-it-out ball. Pierce, Allen and Garnett are getting some pre-playoff rest, and Rondo is as destructive a force as ever. Don't count the Celtics out.

* Jared Wade, 8 Points, 9 Seconds: Contender. Kevin Garnett looks a lot more mobile than he did earlier this year, and the Avery Bradley discovery has done wonders for a team than can now bring the best shooter to ever live off the bench. It's hard to believe they could beat both Miami and Chicago, but if they don't have to, as one NBA champion said, anything is possssssibbbbllllleeeee.
The Celtics might be contenders, but the Knicks team they meet Tuesday night? Not so much.