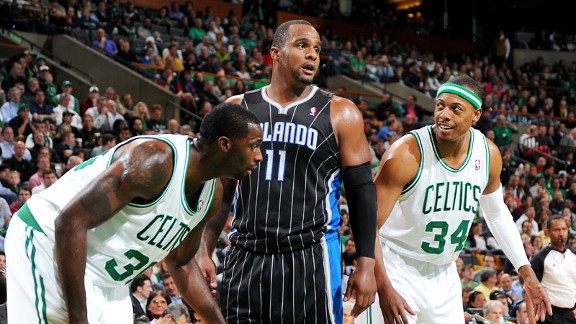 Brian Babineau/NBAE via Getty Images
Paul Pierce's look says it all with Glen "Big Baby" Davis back in town Wednesday.BOSTON -- A handful of postgame news and notes after the Boston Celtics defeated the Orlando Magic 102-98 Wednesday night at TD Garden:
No champagne, but C's savor division title
Leave it to captain Paul Pierce to sum up the Celtics' mindset after clinching the Atlantic Division title with Wednesday's win.
"I'm not about to go pop some champagne bottles or anything like that," said Pierce. "I know they do that in baseball. I mean, it is a good accomplishment. The guys should recognize where we came from to what we are today. It's a good accomplishment, I guess. But all we care about around here is a championship banner. I guess it's just a step forward in the journey that we are trying to go towards."
The Celtics own a 3½-game lead over the Knicks with a week left in the regular season. New York can still finish with a matching record, but Boston owns the necessary tie-breaker even if that occurs. There were no celebratory hats, T-shirts, or Auerbach-approved cigars in the Celtics' locker room after Wednesday's win, but coach Doc Rivers did tell his team to take a minute to savor exactly what it accomplished.
"I don't know if I've ever congratulated the team for winning [a division title]," Rivers said after securing a fifth consecutive division crown. "But I did tell them, I said, 'Guys, I know it's not a big deal to us -- and it isn't because we're not in this to win divisions -- but we were two games under .500 at the All-Star break and the fact that you did it, and did it this early, I think is very impressive.' And it was."
As both Keyon Dooling and Kevin Garnett hinted, many pundits wrote the Celtics off after their early-season struggles. By winning the division, the Celtics are now guaranteed the No. 4 seed in the Eastern Conference and are fighting for home-court advantage against what's likely to be the Hawks or Magic in the opening round.
"Everybody pretty much wrote us off, talking about how old we are," said Dooling. "We all, internally, never bought into that."
Magic prep for life without Dwight
Orlando coach Stan Van Gundy said before Wednesday's game that the Magic do not expect center Dwight Howard back before the end of the regular season and the team is bracing itself for the potential to not have him for the playoffs. "I'd be surprised, very surprised [if he played before the end of the regular season]," Van Gundy said of Howard. "What we're saying right now, our approach is, this is our team -- not only in the regular season, but in the playoffs. If we get him back, obviously it would be a huge bonus, but we're not expecting that at this point." Howard has missed the last six games with a back injury. Van Gundy said he's getting treatment back in Orlando, but didn't offer much of a progress report. "Physical therapy, stretching, massage -- I'm not a physical therapist or a medical person, so I really don't know," he said.
Big impact for Big Baby
Back in Boston for the second time since being dealt to the Magic in exchange for Brandon Bass back in December, Glen Davis wasn't about to let a sprained knee prevent him from going up against his old team. Despite sitting out Orlando's last game, Davis returned to the floor Wednesday and chipped in a team-high 27 points on 12 of 16 shooting with 7 rebounds, 3 steals, and a block over 35:14. In Boston he was known as the Ticket Stub for filling in for Kevin Garnett. In Orlando? Call him the SuperBaby as he fills in for Howard. When the postgame conversation shifted to the playoffs, Davis responded with a little bit of his typical bravado, noting, "I think we're capable of beating them. Today we didn't have two of our [key] guys and they didn't have two of their guys, but at the same time, we had a big missing piece today and we still came out here and played the right way and was in the game."
Doc gets emotional on Summit
Rivers closed his postgame press conference by taking a moment to reflect on news that Tenneessee women's basketball coach Pat Summitt has retired less than a year after being diagnosed with early-onset dementia-Alzheimer's type. "I want to finish with Pat Summitt. She's a neat lady," said Rivers, choking up and needing a moment to compose himself. "I got to know her a little bit. And I just think it's really sad in a lot of ways -- not basketball, but everything. So, I didn't want to get emotional; I'm an emotional person and when you see a giant like that leave the game, and leave the game because of health, it's just sad. But she is responsible for women's basketball. [And] she is not just a women's basketball coach, she's a great coach. I'm in this and the longer I'm in this I just realize how much coaching means to all of us. You think about it today: Pat Summitt is retiring at [age 59] and Larry Brown is taking a job [at SMU] at [age 71]. And it just tells you how much it's in your blood and how much you love it. And for her not to be able to do it, to me is very sad."
Loose Balls: Wafer's return, Moore from bench
Old friend Von Wafer scored 6 points on 3 of 6 shooting with an assist and a steal over 11:27 for the Magic... One night after the Knicks torched Boston beyond the 3-point arc, Orlando, the league's top trifecta-chucking squad, connected on a mere 6 of 24 attempts behind the stripe... Rookie E'Twaun Moore scored a bench-high 5 points, making 2 of the 3 shots he put up -- including a 3-pointer -- over 13 minutes of play for a shorthanded backcourt... Boston's bench got outscored 55-2 in Tuesday's loss to the Knicks. The group responded with a better all-around effort Wednesday, highlighted by 2 points, 5 rebounds, and 4 blocks from rookie center Greg Stiemsma. As usual, he used up most of his fouls, but his defense might have fueled Boston's late third-quarter rally... Even without Dwight Howard, the Magic dominated rebounds (43-29) and points in the paint (54-40)... Avery Bradley matched a season-high with 23 points (on 10 of 14 shooting) and earned high praise from Rivers for playing much of the game as the primary ball-handler (even if Pierce took the role of distributor).
Pregame quick links: Allen trade 'scary' for Doc | Rondo, Allen, Pietrus out | KG wins Auerbach