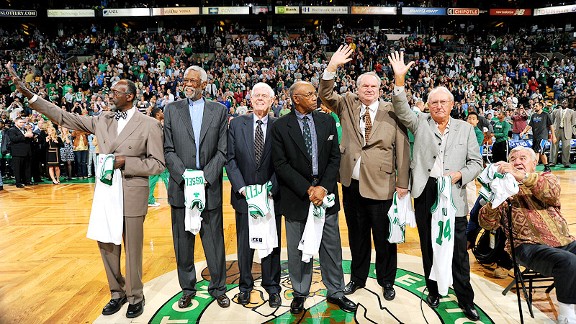 Brian Babineau/NBAE/Getty Images
Together 50 years later: Tom 'Satch' Sanders, Bill Russell, Frank Ramsey, Sam Jones, Tommy Heinsohn, Bob Cousy and Jim Loscutoff -- members of the Celtics' 1962 championship team.BOSTON -- Paul Pierce and Kevin Garnett were criss-crossing the parquet on their way back from halftime Wednesday night at TD Garden as members of the 1961-1962 Celtics were being introduced at midcourt to celebrate the 50th anniversary of their title squad.
Wearing wide smiles, Pierce and Garnett stopped in their tracks to applaud the group. Bill Russell called Pierce over to share a laugh, while Garnett busted out the Wayne's World "we're not worthy!" bow in the presence of the 11-time world champion. As the ceremony was ending, Pierce leaned in and told Garnett to keep April of 2058 clear on his calendar.
"Me and Ticket were talking about it -- that's going to be us down the road," Pierce said with a chuckle. "Coming back when we get older."
Insert your own "you're already old!" joke here (at the risk of drawing Garnett's ire). After Wednesday's win over the Orlando Magic, Garnett spoke with great fondness for the players that established the winning tradition in Boston.
"It's always good to see the foundation come back and see why you do this, see how this thing was built," said Garnett. "I've always said those guys were the building blocks for this organization, if not this great franchise. I've always had a special place in my heart for guys who come before me and before us; without those guys we'd have no idea on what kind of road map or what you want to be. They set the standard in which we play for and I'm glad to be a part of it."