Hollinger: Smoove's moves trump bump
April, 30, 2012
4/30/12
6:15
AM ET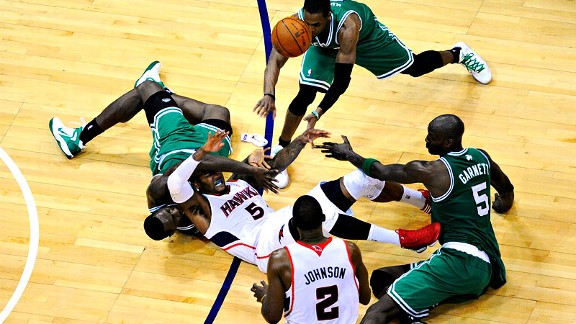 Dale Zanine/US PresswireAtlanta's Josh Smith was in the middle of everything in Game 1, including this fateful play.
ESPN.com's John Hollinger
examines a monster night
for Josh Smith:
Yes, the big story is that the Boston Celtics may have handed the Atlanta Hawks Game 2 by losing their minds at the end of Game 1. But before any of that happened, the Hawks had to take the opener. And take it they did, in a way that was best exemplified on the play that everyone will be replaying all week. Before Rajon Rondo lost his mind and bumped referee Marc Davis, possibly earning a suspension, the Hawks had to win a scrum for a loose ball on the floor that resulted in Brandon Bass fouling Josh Smith. Atlanta won Game 1, 83-74, by doing exactly that for 47 minutes even as their offense was stuck in a deep funk. "We wanted to win the hustle game," said Hawks coach Larry Drew, and man did they ever. The Hawks couldn't make a shot after the first quarter, but repeatedly outhustled Boston to 50-50 balls and came out with dramatically more energy. Smith was the catalyst -- "an animal," said Drew -- and his line was the end product of a classic Josh Smith night.
Hop
HERE
to read the full story.
PODCASTS
Peter King, NFL
Play Podcast Sports Illustrated's Peter King weighs in on the Patriots' offensive line, the outlook for New England, Jim Harbaugh's relationship with his team and the Cowboys' success.
Opening Rant, 9/30
Play Podcast Colin Cowherd shares his thoughts on the state of the Patriots, New England's offense and Brady Hoke's future at Michigan.
First Take
Play Podcast Skip Bayless & Stephen A. Smith debate if the Patriots dynasty is over, if the 49ers have stopped listen to Jim Harbaugh and more. Plus, they make their World Series predictions.