Hollinger: Smoove's moves trump bump
April, 30, 2012
4/30/12
6:15
AM ET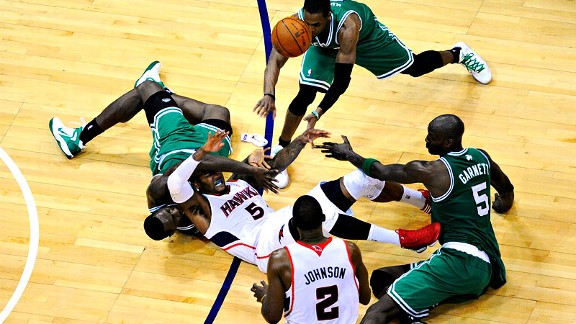 Dale Zanine/US PresswireAtlanta's Josh Smith was in the middle of everything in Game 1, including this fateful play.
ESPN.com's John Hollinger
examines a monster night
for Josh Smith:
Yes, the big story is that the Boston Celtics may have handed the Atlanta Hawks Game 2 by losing their minds at the end of Game 1. But before any of that happened, the Hawks had to take the opener. And take it they did, in a way that was best exemplified on the play that everyone will be replaying all week. Before Rajon Rondo lost his mind and bumped referee Marc Davis, possibly earning a suspension, the Hawks had to win a scrum for a loose ball on the floor that resulted in Brandon Bass fouling Josh Smith. Atlanta won Game 1, 83-74, by doing exactly that for 47 minutes even as their offense was stuck in a deep funk. "We wanted to win the hustle game," said Hawks coach Larry Drew, and man did they ever. The Hawks couldn't make a shot after the first quarter, but repeatedly outhustled Boston to 50-50 balls and came out with dramatically more energy. Smith was the catalyst -- "an animal," said Drew -- and his line was the end product of a classic Josh Smith night.
Hop
HERE
to read the full story.
PODCASTS
Tom Brady, Patriots
Play Podcast Patriots QB Tom Brady talks about donating to The V Foundation for Cancer Research and more.
Joe Buck, MLB
Play Podcast FOX's Joe Buck discusses his memories of Derek Jeter, Jeter's final season, the rivalry between the Yankees and the Red Sox and the rosters for the 2014 MLB All-Star Game.
Brian Windhorst, NBA
Play Podcast ESPN NBA Insider Brian Windhorst weighs in on the Heat's reaction to LeBron James' departure, James' mindset regarding free agency, whether the Cavaliers should pursue Kevin Love and more.