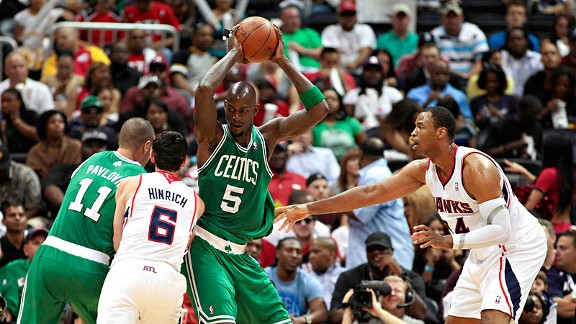 Joshua S. Kelly/US Presswire
Kevin Garnett at work versus the Hawks in Tuesday's Game 2 at Philips Arena.ATLANTA -- Rapid reaction after the Boston Celtics defeated the Atlanta Hawks 87-80 in Game 2 of an Eastern Conference quarterfinal series at Philips Arena. The series is now tied at one game apiece:


HOW THE GAME WAS WON
Paul Pierce poured in a game-high 36 points on 12-of-26 shooting to go along with 14 rebounds to spearhead a Rajon Rondo-less offense. Pierce handed out only four assists, but carried the offense with his exploits, making 11 of 13 attempts at the free-throw line. Kevin Garnett produced a double-double (15 points, 12 rebounds), and Avery Bradley had a quality all-around effort while helping run the offense (14 points, 3 assists, 3 blocks, 2 rebounds). Joe Johnson finished with a team-high 22 points for the Hawks, and Josh Smith had 16 points and 12 rebounds.
TURNING POINT
The Hawks were up 11 with less than three minutes to play in the third quarter, but the Celtics took over thanks in large part to their defense. Pierce's offense helped trim the lead to five before the end of the quarter, and a Bradley jumper with 8:49 to play in the fourth frame tied the game at 66-66. But the run was fueled by the fact that the Hawks went nearly 7½ minutes without a field goal. Even when Johnson ended that drought, Boston didn't relent. Marquis Daniels, who finished plus-11 while aiding Boston's late defensive stand, delivered a dunk off a pretty feed from Garnett, and Pierce followed soon after with his own slam. A 3-pointer from Pierce with 3:30 to go had Boston on top 79-72. The Hawks wouldn't get closer than three the rest of the way.
BOLD PLAY OF THE GAME
For much of the first half, Bradley and Jeff Teague looked like they were trying to one-up each other with highlight-worthy plays. Teague won the competition with a rather ridiculous block on Keyon Dooling. What made it all the more amazing was that Teague left Dooling alone to try to poke the ball away from Garnett, ending up beyond the 3-point stripe on the left wing as the Celtics began swinging the ball around the perimeter the other way. Teague didn't just recover, but raced all the way over to Dooling in the right corner -- getting around a Greg Stiemsma screen in the process -- before blocking the shot about five rows deep with a monster leap. [Watch it here].
HEY, A TRIFECTA!
After missing all 11 3-pointers they hoisted in Sunday's Game 1, the Celtics missed eight more 3-pointers to start Tuesday's Game 2 before Dooling ended the drought with a triple from the left wing with 6:35 to play in the third quarter. Boston endured a stretch of 77 minutes, 25 seconds before that first trifecta. Atlanta made 12 3-pointers before the Celtics' first of the series. Dooling made two triples overall as Boston finished 3-of-14 beyond the arc.
PIERCE STARTS STRONG; PIETRUS NOT SO MUCH
Pierce scored the game's first bucket six seconds in and tallied Boston's first nine points overall by making his first four shots. Things went south for both him and Mickael Pietrus soon afterward (though both managed to recover later). Pietrus picked up three fouls in 34 seconds before being taken out with 7:50 to play in the frame, as the Celtics then leaned on Sasha Pavlovic and Daniels for the rest of the half. And even though Pierce went cold, making just one of his next five shots, the Celtics hung around in an entertaining first quarter and were tied 24-24 with the Hawks after the first 12 minutes.
CELTICS RUN 10 DEEP
Without Ray Allen (ankle) and Rondo (suspension) and with Pietrus in early foul trouble, Rivers went deep with his bench, utilizing 10 bodies in the first half. That included a fair dose of center Ryan Hollins, who played 4:38 in the first half and was actually one of only two Boston players with a positive plus/minus at halftime (both he and Pavlovic were plus-3). Alas, bench players were still a combined 2-of-7 for a mere four points (all from Pavlovic) before the intermission. Dooling and Daniels gave the bench a burst later in the game.
HAWKS LOSE SMITH LATE
Smith came up hobbling late in the fourth quarter and departed with what the team announced as a sprained left knee with 4:20 to go. The Hawks were down two at that point and sorely missed his presence as the offense struggled to generate points throughout the second half.
WHAT IT MEANS
The Celtics can claim this wasn't a must-win, but let's face it: Teams that have opened 2-0 series leads in past best-of-seven series own a winning percentage of better than 94 percent. Even with the series set to shift back to Boston, the Celtics needed to steal this one. Despite fumbling away home-court advantage with their regular-season inconsistencies, they've now essentially wrestled it away from the Hawks by evening the series. That's no small feat, considering that Atlanta has been a house of horrors for the Celtics. The fact that Boston was able to win despite playing without Rondo and Allen makes it even sweeter. Boston gets Rondo back for Friday's Game 3, but will need to bottle this momentum moving forward.