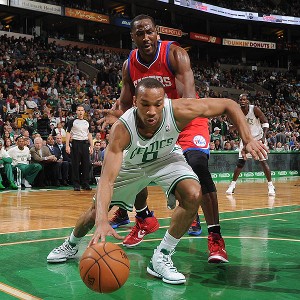 Brian Babineau/NBAE/Getty Images
Avery Bradley is playing through pain in his left shoulder from a sore rotator cuff.Celtics shooting guard Avery Bradley admitted Friday that his ailing left shoulder remains sore, but said that he will be ready for Saturday's Game 1 of an Eastern Conference semifinal series against the Philadelphia 76ers.
Playing through a rotator cuff issue, Bradley wore a wrap over his left shoulder in Game 6 against the Hawks, the first time he's had any sort of padding there since dislocating the shoulder in Game 3.
"I don't feel like it affected me that much," said Bradley. "It definitely bothers me, but I try not to worry about it. I just try to go out there and play as hard as I can."
Celtics coach Doc Rivers admitted he had considered the idea of tweaking Boston's starting lineup when the Hawks moved Joe Johnson to shooting guard before Game 5. But despite the height Bradley gave up in that matchup, Rivers stuck with his second-year guard over the final two games of that series.
Rivers liked Bradley's effort overall while appearing in his first playoff series against the Hawks.
"He didn't shoot the ball well in this series -- he did in spurts -- but I thought he played very well overall," said Rivers. "I thought he was comfortable; I didn't think the stage was too big for him at all. That was good to see."
The stage grows a bit in the second round and the challenge morphs as well as Boston's backcourt must prepare for the starting combination of Jrue Holiday and Evan Turner, with scorer Lou Williams providing instant offense off the pine.
"Avery and I will have our hands full," said Celtics point guard Rajon Rondo. "We'll be ready."