Rapid Reaction: C's 92, 76ers 91 (Game 1)
May, 12, 2012
5/12/12
10:32
PM ET
Mark L. Baer/US PresswireKevin Garnett and the Celtics tried to slow down the 76ers in Game 1 at TD Garden.
BOSTON -- Rapid reaction after the
Boston Celtics
defeated the
Philadelphia 76ers
92-91 in Game 1 of an Eastern Conference semifinal series Saturday evening at TD Garden:


HOW THE GAME WAS WON
Rajon Rondo
produced another postseason triple-double, putting up 13 points, 17 assists and 12 rebounds, but it might have been his game management at the end of the game that allowed Boston to prevail: He committed a smart foul to prevent Philly from getting off a potential tying shot; then ran out the final seconds.
Kevin Garnett
added 29 points, 11 rebounds and 3 blocks over 38 minutes -- picking up right where he left off in ousting the Hawks in Thursday's Game 6.
Avery Bradley
deserves a slice of the credit pie, too, for his defensive efforts down the stretch.
Andre Iguodala
scored 19 points to pace four 76ers in double figures, while
Evan Turner
added a double-double (16 points, 10 rebounds).
TURNING POINT I
The Celtics were lifeless for much of the first half and were lucky that Garnett showed up. Not only did he have the only field goal by a Boston starter in the first quarter, but the other four were a combined 1-for-17 midway through the second quarter. The Celtics finally got things going -- leaning on their defense -- late in the first half, trimming a 13-point deficit to 5 at the intermission. The 76ers actually went a 6-minute, 44-second trek without a field goal, spanning into the third quarter, and Bradley's back-to-back reverse layups (the final of which was in some serious traffic) put Boston out front 48-47 with 9:18 to play in the third. Alas, the Celtics couldn't sustain it ...
TURNING POINT II
The 76ers countered Boston's run with a little 12-3 burst that featured two unsightly turnovers and allowed Philadelphia to pull back out front. By the end of the quarter, the Celtics were down 4, trimming just a point off their halftime deficit for all their early second-half work. What's more, the Sixers pushed their lead back to 10 with a 6-0 run to start the fourth quarter, forcing Boston into catch-up mode yet again. Unfazed, the Celtics kept coming. A Garnett dunk, two free throws from Pierce and a beautiful Bradley transition layup off a long feed from Rondo had the deficit at 3 (80-77) with 7:15 to play. Maybe it was appropriate that it was Rondo who got the Celtics over the hump, burying a jumper with 3:47 to go that not only capped his triple-double, but put Boston out front 83-82. But the real turning point might have happened a moment later ...
[+] Enlarge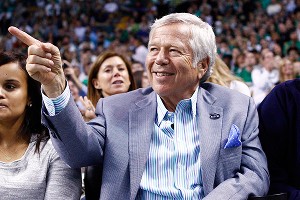 Mark L. Baer/US PresswirePatriots owner Robert Kraft likes what he's seeing at the Garden in Game 1.
TURNING POINT III
A
Spencer Hawes
jumper had the Sixers out front 84-83 when Rondo committed his seventh turnover of the game.
Lou Williams
went the other way with what would have been a big layup, but Bradley blocked the attempt. Garnett, who had fallen out of bounds at the other end of the floor, played fullback in paving the way for Rondo, who provided a dish in the circle that KG finished with an and-1 for an 86-84 lead. Bradley stole the ball from Williams on the next possession and Garnett made another jumper at the other end. A Bradley rebound led to a Pierce step-back and a 90-84 lead with 1:18 to go that nearly took the roof off the Garden. The Celtics hung on from there thanks to Rondo's smarts.
BOLD PLAY OF THE GAME
Nothing Garnett does lately should surprise us, particularly on the heels of that monster 28-point, 14-rebound, 5-block effort in Game 6 to finish off the Hawks. But Garnett pretty much carried the Celtics throughout Game 1 and kept coming up with big plays. His finest might have come with Boston down 77-69 early in the fourth quarter. Iguodala stormed the lane and looked poised to toss down an emphatic jam, but Garnett shuffled over and blocked it, sending
Keyon Dooling
the other way for a layup.
76ERS SUPERFAN TOSSED AFTER FIRST QUARTER
A courtside staple near the 76ers bench at the Wells Fargo Center, a fist-pumping Philadelphia superfan with a jersey that reads "Sixth Man" (and famous for kneeling along the sideline during game action) got led away from his seat near the Boston bench after the first quarter. From a distance, it appeared he had got a little too close to Boston players for comfort and did not return to the area the remainder of the evening.
LOOSE BALLS
When
Greg Stiemsma
entered the game, a steamboat whistle sounded (KG lovingly calls the rookie center "Steamboat"). Stiemsma had a bunch of supporters opposite the Celtics bench clad in "Stiemsma Crew" T-shirts. ... Patriots owner Robert Kraft got a standing ovation when he was shown sitting near Celtics owner Wyc Grousbeck's seats on the baseline near the visitors' bench. On the eve of Mother's Day, Kraft wore the MHK pin in honor of his late wife, Myra.
WHAT IT MEANS
Typical Celtics. Nothing comes easy for these guys, but the end result -- more often than not -- is a victory. The Celtics did themselves no favors for the first 37 minutes and were staring at a double-digit deficit with 11 minutes to go. Most teams would have folded, but Boston just kept coming. Garnett didn't leave the floor in the fourth quarter; Rondo capped off his triple-double; Pierce hit Pierce-like shots; Bradley made some monster defensive plays. Just a brilliant fourth-quarter effort that withstood everything Philadelphia threw at them. Game 2 is back here Monday when Boston can really put itself in control of this series.
PODCASTS
Adam Schefter, NFL
Play Podcast ESPN NFL Insider Adam Schefter weighs in on the Panthers' WR situation, Julian Edelman's future with the Patriots, Vince Wilfork's decision to ask for his release and more.
Spanning the Globe: 3/13
Play Podcast "Spanning the Globe" features ESPN Boston's Mike Reiss, Yahoo! Sports' Eric Edholm and ESPN LA 710's Mark Willard.
John Farrell, Red Sox
Play Podcast Red Sox manager John Farrell talks about whether he expected his team to make such a turnaround in one season, his relationship with his players, fans' expectations for the squad and more.