When Iggy's not in sight
May, 17, 2012
5/17/12
10:42
AM ET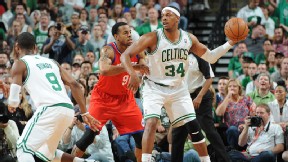 Brian Babineau/NBAE/GettyAndre Iguodala has done a solid job limiting Paul Pierce's offense this series.
PHILADELPHIA -- One of the secrets to Paul Pierce's offensive success in Wednesday's Game 3 win? Whenever No. 9 wasn't in front of him, Pierce attacked.
According to ESPN Stats and Info, Pierce was a mere 1-of-5 shooting when guarded by Philadelphia's Andre Iguodala on Wednesday (and is now just 5 for 20 for the series). But only one of Pierce's attempts against Iguodala came after the first quarter and Pierce seemed to attack whenever he didn't have Philly's smothering swingman impeding his path.
Pierce didn't have a particularly strong shooting night (6 of 17 overall), but still got to the line 14 times (making 11 freebies) as part of a 24-point outburst. A glance at the Iguodala defense numbers:
It's worth noting that Pierce did draw two shooting fouls on Iguodala, including a three-shot foul midway through the third quarter that aided Boston's ability to pull away. Plus, Pierce's renewed aggression going at the rim left the 76ers scrambling to rotate with help when he got past Iguodala.
For his part, Pierce said, "Whether I shot the ball well or not, everything I was going to do was being with aggression."
The Celtics need more of that aggressive Pierce moving forward to sustain that sort of offensive production.
PODCASTS
Bill Simmons, NBA
Play Podcast Grantland's Bill Simmons discusses the state of the Lakers, Phil Jackson's future, the perception of Rajon Rondo, Doc Rivers' impact on the Clippers and more.
Baseball Tonight
Play Podcast Buster Olney chats with Jayson Stark about Ken Griffey Jr.'s uncomfortable interview with Linda Cohn and the value of spring training. Plus, Mike DiGiovanna on the Angels and Derrick Goold on Matt Carpenter's negotiations with the Cardinals.
John Farrell, Red Sox
Play Podcast Red Sox manager John Farrell talks about whether he expected his team to make such a turnaround in one season, his relationship with his players, fans' expectations for the squad and more.