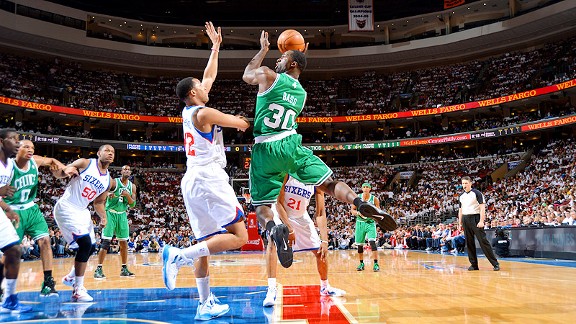 Jesse D. Garrabrant/Getty Images
Brandon Bass helped spark the Celtics' early offensive outburst in Game 4.PHILADELPHIA -- Rapid reaction after the Philadelphia 76ers defeated the Boston Celtics 92-83 in Game 4 of an Eastern Conference semifinal series Friday night at Wells Fargo Center. (The series is tied at two games apiece):


HOW THE GAME WAS WON
Andre Iguodala and Evan Turner each scored 16 points to pace five 76ers in double figures. Philadelphia shot a mere 32.8 percent (19 of 58) through three frames, but made 12 of 24 shots in the final frame (including some huge second-chance efforts) to cap an incredible and rather improbable rally. Paul Pierce scored a team-high 24 points on 8 of 13 shooting, while Rajon Rondo added 15 points and 15 assists. Kevin Garnett slumped badly, however, making just 3 of 12 shots for nine points and 11 rebounds over 40 minutes.
TURNING POINT
The Celtics coughed up an 18-point third-quarter lead, allowing the 76ers to take the lead in the final frame. A seesaw battle erupted and the game was tied at 83 with 1:38 to play after a Rondo finger roll. That's when Iguodala took over. First, he drilled a step-back jumper with 1:22 to go to push Philadelphia back out front. After Thaddeus Young blocked a Rondo layup attempt, Iguodala splashed a back-breaking late-shot-clock 3-pointer from the right corner for an 88-83 advantage with 36.9 seconds to go. That was it for Boston, as Ray Allen missed a triple on the ensuing possession and the 76ers emerged victorious.
BOLD PLAY OF THE GAME
Let the Philadelphia bench have this spot. Young (12 points, nine rebounds) and Lavoy Allen (eight points, 10 rebounds) were absolute beasts down the stretch, abusing Boston inside and generating key buckets that set up Iguodala's heroics.
C'S DOMINATED OUT OF THE GATES
The Celtics' bench initially was Flexin' early and often as Boston made its first four shots of the game -- including back-to-back 3-pointers by Pierce and Avery Bradley -- en route to scoring the first 14 points of the game. Jrue Holiday finally broke up the shutout with a jumper with 8:24 to go in the frame, but the damage had been done. The 76ers finished the first quarter staring at a 12-point deficit after shooting 18.8 percent (3 of 16). Brandon Bass scored 10 points on 4 of 6 shooting to pace the Celtics' fast start.
YOU KNEW THEY'D MAKE A RUN
The Celtics scored the first nine points in Monday's Game 2 loss at TD Garden and you sort of figured the 76ers would make a charge at some point. It didn't take long. Once Boston's reserves rolled in, Philadelphia trimmed its deficit as low as six (24-18) just three minutes into the second quarter. Despite Boston's efforts (nine turnovers, 21 free-throw attempts allowed before the intermission), Philadelphia refused to immediately capitalize (four points off turnovers, eight missed free throws before halftime). A driving layup by Rondo before the break had Boston up 46-31 at the midway point.
AND THEY CHARGED (FOR REAL) IN THE THIRD QUARTER
The Celtics missed their first nine shots of the second half, enduring a near seven-minute drought to let the 76ers right back into the game (yet again). Boston's lead went as low as 58-54 with 2:47 to go in the quarter, but Garnett forced a turnover, then led a little 2-on-1 break that he finished with a reverse layup. Next trip down, Pierce drilled a left wing 3-pointer to push Boston's advantage to 63-54, though Boston led by only four going to the final frame. The 76ers tied it just 90 seconds into the final frame.
KG, BRAND GET TECHNICALS
Garnett, laboring through a struggle-filled night, got tagged with a technical (by referee Bill Kennedy) with 9:46 to play in the third quarter. It was an odd sequence with the Celtics in transition and Garnett barking about something at midcourt. Garnett promptly atoned by getting in Elton Brand's head, leading to a technical on him. Later in the third quarter, Ryan Hollins and Spencer Hawes got matching double technicals.
WHAT IT MEANS
So the Celtics have chosen the hard road yet again. Boston had this game -- and the series -- in the bag in the second half. Sticking with the season theme, Boston bumbled the game away and let Philadelphia steal the win that sends this back to TD Garden with all the pressure on the Celtics to hold serve. The 76ers have all the momentum again and Boston has to find a way to put this one behind them. They'll get two days to think about it before the teams joust again on Monday. Philly's victory ensures we'll be back at Wells Fargo for Game 6 on Wednesday.