Final play: A little help from Red?
June, 4, 2012
6/04/12
1:45
AM ET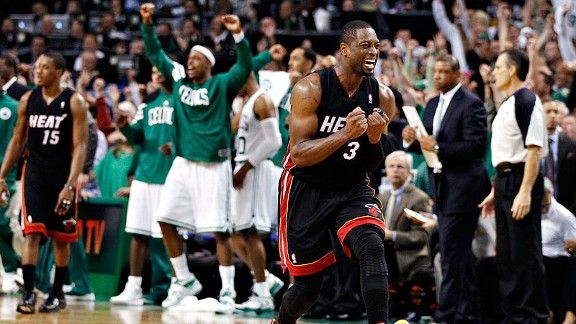 David Butler II/US PresswireDwyane Wade reacts after missing a potential winner in overtime in Game 4.
BOSTON -- Just about everybody inside TD Garden held their breath when Miami's Dwyane Wade released a potential winning 3-pointer in the final seconds of overtime on Sunday night. Celtics coach Doc Rivers was confident that -- even if it took a little divine intervention -- that ball wasn't going through the cylinder.
"Red (Auerbach) wasn't going to let that go in, you know that," joked Rivers. "Not in the Boston Garden."
Wade's 3-pointer indeed rattled off the rim and Boston escaped with a 93-91 overtime triumph in Game 4 of the Eastern Conference finals. The series is now tied at 2 headed back to Miami.
"I thought it looked good when it left (Wade's) hands," admitted Rivers. "We told (Marquis Daniels to) watch the pump fake. But I thought what Marquis did was, on the pump fake, he jumped out of the way, so he couldn't draw a foul. Wade is the best -- him and Paul (Pierce) -- at doing that. So he got the first part -- well, Wade did -- but I thought avoiding of the foul was as big as anything else."
For his part, Wade thought the shot was going in as well.
"It was on line," he said. "It was all you can ask for. I got my legs on the middle and shot it, and it was on line, it just decided it didn't want to go in."
Added Daniels: "He pump-faked... it's a tough shot, but he can score, so anytime he gets the ball like that, it's always dangerous, so you just gotta make it as tough as possible."
Heat coach Erik Spoelstra suggested there was multiple options on the play.
"There were a couple of different layers to that," said Spoelstra. "We were going to look and see if we could get a cheap one. If not, it was going to come back to Dwyane, to what you saw -- pickandroll with him and Shane (Battier). We got a clean look at it. That's pretty much all you can ask for at that point."
Rajon Rondo had started the possession on Wade, but the pick-and-roll forced Boston to switch Daniels on. Wade couldn't quite take advantage.
"I thought the defensive possession was really good," said Rivers. "We denied Wade for as long as we could, same thing right before overtime with LeBron (James' final shot). It was low clock; we were ready if he drove. Kevin was down low. We were going to anticipate the drive. We wanted him to take a contested jump shot, even though it ended up being the uncontested 3."
Said Mario Chalmers: "Usually that's a shot (Wade) makes. We can't ask for a better look."
PODCASTS
Barry Melrose, NHL
Play Podcast ESPN NHL analyst Barry Melrose talks about big wins for the Bruins and Sharks on Thursday night and compares the end of Wayne Gretzky's career to the end of Michael Jordan's career.
Broussard And Virk On Another Gronkowski Surgery
Play Podcast Adnan Virk and Chris Broussard discuss another surgery on Rob Gronkowski's broken forearm and wonder if Gronkowski's inability to heal from this injury is a red flag for the rest of Gronkowski's career.
Russillo And Virk On Bruins Over Leafs
Play Podcast Ryen Russillo and Adnan Virk discuss the Bruins' incredible comeback against the Leafs, put the game in historical perspective and talk about how crushing the loss is for the people of Toronto.