Menino praises Celtics' 'KJ' and 'Hondo'
June, 7, 2012
6/07/12
9:19
AM ET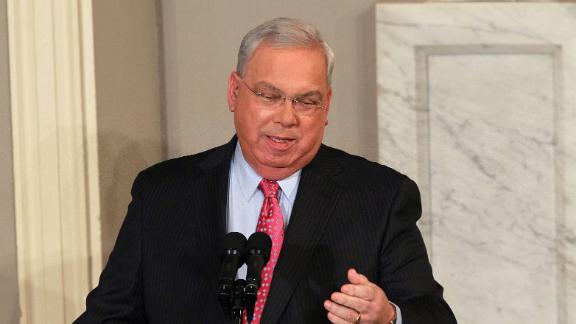 Boston mayor Thomas Menino, who has a dubious history of blunders and mispronunciations when talking about the city's sports teams, stuck his foot in his mouth again Wednesday when discussing the Celtics in the Eastern Conference finals.
"There's a lot of heart in this team, let me just tell you," Menino told reporters, before adding, "KJ is great but Hondo is really the inspiration. Hondo drives that team."
KJ, of course, should be KG, Kevin Garnett. KJ was the nickname for former Phoenix Suns guard Kevin Johnson, who is currently the mayor of Sacramento. And Hondo was Celtics legend John Havlicek's nickname. Hondo hasn't graced the Boston parquet since 1978. Menino was referring to Celtics guard Rajon Rondo there.
This is far from the first sports head-slapper Menino has been guilty of. When discussing the New England Patriots' chances in the playoffs against the Denver Broncos earlier this season, Menino talked about Tom Brady's weapons "Grabowski" (Rob Gronkowski) and "Wes Weckler" (Welker).
Menino's most infamous reference came in 2010, when dedicating a statue to Bruins legend Bobby Orr's "ionic" goal to win the 1970 Stanley Cup. In discussing some of the best moments in Boston sports, Menino said it was Red Sox catcher Jason Varitek who "split the uprights" to win the Patriots' first Super Bowl in 2002. He was of course referring to Adam Vinatieri.
The Celtics have a chance to reach the NBA Finals for the third time in five years with a victory tonight over the Miami Heat in the Eastern Conference finals.
PODCASTS
Barry Melrose, NHL
Play Podcast ESPN NHL analyst Barry Melrose talks about big wins for the Bruins and Sharks on Thursday night and compares the end of Wayne Gretzky's career to the end of Michael Jordan's career.
Broussard And Virk On Another Gronkowski Surgery
Play Podcast Adnan Virk and Chris Broussard discuss another surgery on Rob Gronkowski's broken forearm and wonder if Gronkowski's inability to heal from this injury is a red flag for the rest of Gronkowski's career.
Russillo And Virk On Bruins Over Leafs
Play Podcast Ryen Russillo and Adnan Virk discuss the Bruins' incredible comeback against the Leafs, put the game in historical perspective and talk about how crushing the loss is for the people of Toronto.