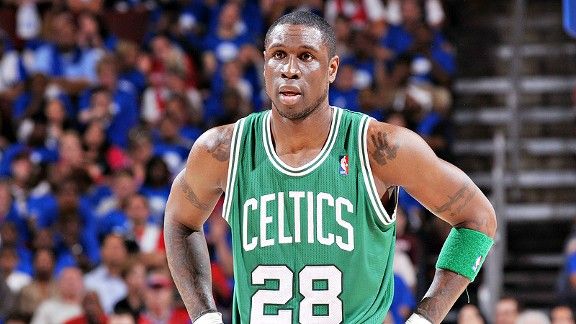 David Dow/NBAE/Getty Images
Mickael Pietrus gushed about his time spent in Boston and his desire to win a title here.Over the three weeks leading up to start of the new league year on July 1, we'll take a player-by-player look at the Celtics' 2011-12 roster and how each player's season unfolded, assigning a grade for their overall performance. This is the 10th in the series of report cards:
Player: Mickael Pietrus
2011-12 averages: 6.9 ppg, 3.1 rpg, 0.6 apg, 21.9 mpg
2011-12 salary: $1.2 million
Season in a paragraph: Signed by Boston at the veteran's minimum on Christmas Eve after a less-than-amicable parting with the Phoenix Suns, Pietrus battled through right knee woes throughout the season as well as a scary fall in Philadelphia in late March that left him with a severe concussion. Pietrus shot a career-worst 38.5 percent from the floor and a mere 33.5 percent beyond the 3-point arc, but still proved to be one of Boston's top reserves, particularly with his inspired defense. Through all his personal adversity, Pietrus provided a loose and upbeat personality in the Celtics' locker room, yet also had an insatiable desire to help the team win another world title that endeared him to his veteran teammates.
Season highlight: Despite making just one of his first nine shots over the first four games of the Eastern Conference finals, Pietrus chipped in 13 points (on 5-of-8 shooting, hitting a pair of 3-pointers), three rebounds, and two steals over 27 inspired minutes in Boston's Game 5 triumph in Miami. The effort landed Pietrus at the postgame podium, where he revealed some texts from former Celtics center Shaquille O'Neal helped inspire the big-game performance.
Season lowlight: On the final stop of a season-long, eight-game road trip on March 23 in Philadelphia, Pietrus got tangled with Lou Williams going strong at the basket in the second quarter and landed hard on his back, whip-lashing as he crashed to the court. Pietrus needed on-court attention from trainers and doctors before being stretchered out of the building in a scary scene. Amazingly, Pietrus suffered only a concussion and didn't even spend the night at the hospital. He did sit out the next 10 games while battling post-concussion syndromes before returning in mid-April, only to participate in the lone back-to-back-to-back of the season, and needed four more games off later in the month to let his sore right knee calm.
Final grade: B
Teacher's notes: Much like Paul Pierce with the sprained MCL in the playoffs, Pietrus labored offensively for much of the season because of his right knee (one that required surgery again after the season). Then when he finally started attacking the hoop to generate easier offense, Pietrus endured the concussion that left him somewhat skittish to go at the rim upon his return. Through it all, Pietrus' defense allowed him to battle the offensive lulls and kept him a key cog off the Boston bench, able to match up with the opposing team's best scorer when Pierce was off the floor. What's more, Pietrus utilized his size to add a decent presence on the glass, posting his best defensive rebounding percentage (13.7) since 2008. Defensively, Pietrus allowed 0.796 points per play, finishing in the 75th percentile among all NBA players (excellent for his position), according to Synergy Sports data. Opponents shot a mere 36.4 percent against him (by comparison, Pierce graded out nearly identical, allowing 0.80 points per play, the 74th percentile, as opponents shot 35.5 percent against him)
What's next?: Pietrus is an unrestricted free agent, but expressed a strong desire to return to Boston and aid another championship run. He was clearly enthralled by the history here and wants to etch his name as a part of it. The question is whether the Celtics can afford to bring him back. Pietrus almost certainly will command more than the minimum this offseason, but he might take a small discount if Boston brings back its core for another run. The biggest thing for Pietrus at the moment: Rehabbing from arthroscopic surgery on that right knee and getting himself ready for training camp.
Honor roll: Click HERE to read past report cards.
Don't agree with teacher? Just want to sound off on Pietrus' 2011-12 season? Leave your thoughts in the comments section.