Motivated Sullinger: 'It's time to work'
June, 29, 2012
6/29/12
4:11
PM ET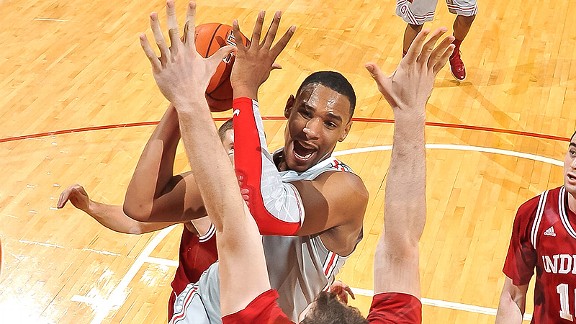 Jamie Sabau/Getty ImagesJared Sullinger helped lead Ohio State to the Final Four by averaging 17.5 points and 9.2 rebounds.
ESPN.com columnist
Scoop Jackson caught up with Celtics draft pick Jared Sullinger
, who was taken at No. 21 by the Celtics in Thursday night's draft after a precipitous fall down the draft board over the last couple of weeks. That steep drop was the result of back problems that NBA doctors said could shorten his NBA career.
In the span of 10 days, Sullinger went from a top-5 or top-10 pick to someone who wasn't even invited to the NBA draft.
"All because of an unofficial undiagnosed injury that has never really affected his play and never stopped Sullinger from twice being named an AP and Sporting News First Team All-American," wrote Jackson.
Instead of putting on his Celtics cap and hugging his family in a brand new suit on national TV at the Prudential Center in New Jersey, he did it privately at a bar in Columbus, Ohio, wearing a polo shirt and jeans but still surrounded by family.
"I'm glad the way it worked out. I got to be with family and friends that
really
care about me," he said while close to a hundred "family and friends" celebrated around him in his honor.
Jackson writes that "Jared Sullinger will use being picked 21st in the draft and not being invited to New Jersey as his base incentive to prove doctors, GMs, league execs and every team in the NBA that passed on him wrong."
"To me," Sullinger says, with a Celtics cap resting atop his head. "This (not being invited to the draft, being picked low) still tells me I'm not a good enough player yet. They told me I wasn't good enough, now it's time to work."
PODCASTS
Jeff Saturday, NFL
Play Podcast ESPN NFL analyst Jeff Saturday dishes on what Peyton Manning is like, Patriots-Ravens, the Cowboys' game management during the Packers' comeback and more.
Ron Jaworski, NFL
Play Podcast ESPN NFL analyst Ron Jaworski weighs in on Packers-Cowboys, the scrutiny of Tony Romo, Marc Trestman's decision to start Jay Cutler, Patriots-Dolphins, the Chiefs' offense and more.
Cris Carter, NFL
Play Podcast ESPN NFL analyst Cris Carter covers the criticism of Tony Romo after the Cowboys' loss to the Packers, the Giants' struggles, Tom Coughlin's future in New York, the state of the AFC and more.