Lue lets them play at summer league
July, 9, 2012
7/09/12
8:00
PM ET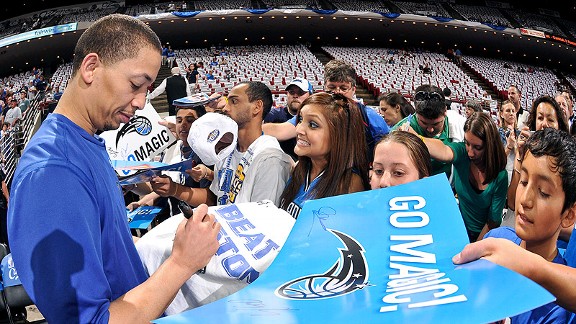 Fernando Medina/NBAE/Getty ImagesOrlando has always been kind to Ty Lue, who had two different stints with the Magic..
ORLANDO, Fla. -- Celtics coach Doc Rivers was about to veer into the media dining area at the Amway Center when he spotted reporters pacing behind Ty Lue, eager for a postgame chat about the team's summer opener. Rivers, who manages that rather undesirable chore during the regular season, got a good laugh and playfully called out Lue's name as he turned to face the microphones.
Lue, one of Rivers' assistants after joining the Celtics as a member of basketball operations three years ago, said Monday's game was the first he's ever served as a head coach. Ironically, as energetic and playful as he can be while engaging with players at practice or before a game, Lue was rather passive on the sideline and it left another of Rivers' assistants poking fun when he didn't call a timeout during an extended Oklahoma City run in the first half.
"(Mike) Longabardi called me Phil Jackson because I wouldn't call a timeout," Lue said with a smile. "(The Thunder) went on that big run and I was thinking I've only got two timeouts and a 20(-second timeout), so I was like, 'Just let them play through it, let them get a feel for it.' You don't want to call timeout every mistake and every run. They did a good job of playing through it."
It's hard to argue with the result. The Celtics rebounded from a couple Thunder runs in the middle quarters to regain control (Boston had led by 15 after one quarter) in the second half and emerged with a 73-65 triumph.
Leaning on his experiences on the court, Lue tried to be as hands-off as possible with his players in his first game at the helm.
"I just wanted the guys to play free, have fun and play their game," he said. "Take your shot when it's your shot; If you don't have it, move the ball, but don't be afraid to be aggressive and attack. If you're doing too much, I'll let you know."
PODCASTS
Larry Lucchino, Red Sox
Play Podcast Red Sox president and CEO Larry Lucchino discusses his team's response to the Boston Marathon bombings, how the city bounced back from the tragedy and more.
Donnie Wahlberg, Actor
Play Podcast Actor Donnie Wahlberg talks about this year's Patriots' Day, his experience involving last year's Boston Marathon, security presence in the city and more.
Martin J. Walsh, Boston
Play Podcast Boston Mayor Martin J. Walsh comments on how this Patriots' Day differs from those in the past, securing the marathon, the role sports plays in the city and more.