#NBArank: Joseph at No. 467
August, 18, 2012
8/18/12
11:35
AM ET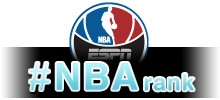 ESPN.com and the TrueHoop Network are ranking every NBA player -- and counting them down on Twitter (@NBAonESPN), from No. 500 to No. 1. Celtics rookie Kris Joseph gets the typical second-round pick treatment and is the first Boston player to debut at No. 467 (with a 1.99 ranking). That should provide just another dose of motivation for the 51st overall pick in this summer's draft.
Some of Boston's former second-round picks like E'Twaun Moore (414th, 2.46 rating) and Lester Hudson (468, 1.97) are also part of the 400+ club, as is departed big man Sean Williams (428, 2.32).
One rating sure to draw heavy Boston interest (and maybe even some debate), Brian Scalabrine lands at No. 487 with a 1.76 rating.
Hop
HERE
to view the in-progress list.
PODCASTS
Adam Schefter, NFL
Play Podcast ESPN NFL Insider Adam Schefter covers Rob Gronkowski's latest forearm surgery, the possibility of a new league schedule, Super Bowls L and LI, Charles Woodson and more.
Barry Melrose, NHL
Play Podcast ESPN NHL analyst Barry Melrose talks about big wins for the Bruins and Sharks on Thursday night and compares the end of Wayne Gretzky's career to the end of Michael Jordan's career.
Broussard And Virk On Another Gronkowski Surgery
Play Podcast Adnan Virk and Chris Broussard discuss another surgery on Rob Gronkowski's broken forearm and wonder if Gronkowski's inability to heal from this injury is a red flag for the rest of Gronkowski's career.