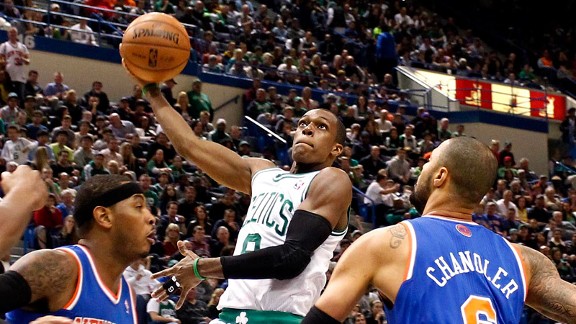 Mark L. Baer/US PRESSWIRE
Celtics point guard Rajon Rondo at work versus the Knicks on Saturday night.HARTFORD, Conn. -- Rapid reaction after the New York Knicks defeated the Boston Celtics 98-95 in overtime during exhibition play Saturday night at the XL Center:


HOW THE GAME WAS WON
Carmelo Anthony scored a game-high 23 points, while Tyson Chandler added 16 points and seven rebounds to pace the Knicks, but it was rookie forward Chris Copeland who dominated late-game play by scoring 21 points (18 of which came after the third frame). Celtics rookie Jared Sullinger posted team highs with 14 points and seven rebounds before fouling out in the overtime session. Jeff Green kicked in 12 points on 5-of-10 shooting with four rebounds and a block in 29 inspired minutes, while Courtney Lee added 11 points off the bench. Birthday boy Paul Pierce connected on just 3-of-11 shots, but scored 12 points for Boston.
TURNING POINT
The fourth quarter and overtime featured a bit of a jayvee contest (well, the Knicks kept Jason Kidd on the floor, but the Celtics ran with a lineup of Jamar Smith, Dionte Christmas, Micah Downs, Kris Joseph and Sullinger). The Knicks erased a three-point deficit entering the frame and had Boston's youngest players on the ropes before the rookies made a spirited (and entertaining) run, much to the delight of the Celtics veterans who cheered on every moment (and argued for every call). That culminated with Sullinger spinning in a free throw to tie the game at 86 with 16.6 seconds to go to force an extra session, where Copeland blocked a Smith 3-point attempt in the final seconds to seal the victory.
BOLD PLAY OF THE GAME
Green provided the loudest moment of the night when he swept across the lane early in the second quarter and delivered a ferocious one-handed jam over Kidd. Green scored all of his 12 points in the first half (adding a corner 3-pointer soon after), but it was the jam that highlighted another strong offensive outing.
WHAT IT MEANS
The Celtics really didn't need extra basketball. The team launched into a game-heavy stretch that features six exhibition tilts in nine days. Even with one of those rare off days Sunday, Rivers ran his starters pretty light and the day belonged to the reserves (Green, Lee and Sullinger). Boston will get a day to rest before a back-to-back that starts Monday in Philadelphia (and closes Tuesday with a visit from the Brooklyn Nets).