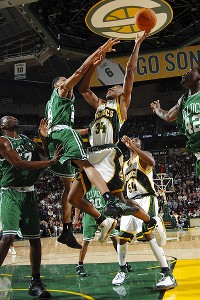 Terrence Vaccaro/NBAE/Getty
Rajon Rondo defends a Ray Allen drive during the 2006-07 season.BOSTON -- Leave it to Rajon Rondo to add a little levity to the impending matchup with old friend Ray Allen.
Asked after the Celtics' open practice Sunday if it will be odd to see Allen in a different uniform this season, Rondo quickly pointed out that he played against Allen when he was with Seattle during Rondo's rookie season.
OK, that's true. But given the past five years together, won't it be a little strange?
"You'll have to ask me after the game," said Rondo. "It doesn't make a difference."
After all the hype, including the public back-and-forth through the media, the Celtics will finally see Allen up close on Tuesday night during the season-opener in Miami. In fact, they might cross paths Monday when the Celtics invade AmericanAirlines Arena for a final tune-up before the showdown.
Rivers knows a barrage of Allen questions are coming from the Miami media.
"I expect them, it doesn't mean I'm going to answer them," he said with a smile.
Following his coach's cue from earlier in the week, Celtics captain Paul Pierce downplayed the idea of focusing on one Heat player, shifting the conversation away from Allen.
"It is what it is," said Pierce. "There's been enough questions about [facing Allen]. Right now the focus is on the Boston Celtics and Miami Heat, and that's about it."