Insider: KG cooling off from perimeter?
November, 20, 2012
11/20/12
12:00
PM ET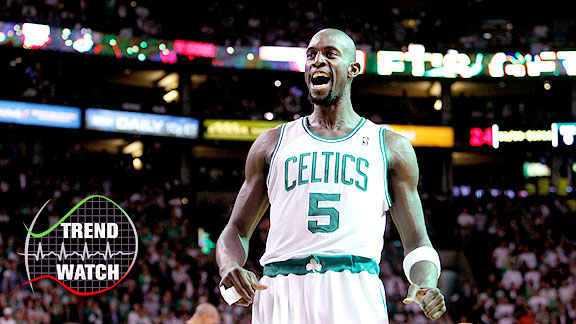 AP Photo/Elise AmendolaKevin Garnett is enduring a slow start with his perimeter jumper.
ESPN Insider's weekly
Trend Watch
examines Kevin Garnett's early season struggles with his perimeter shot:
The perimeter component is an important part of who KG is as a player. Garnett attempted 6.0 shots a game from the 16-to-23 foot range last season, according to HoopData.com, and has averaged at least 4.8 shots a game from that distance in every season since joining Boston. During that time, he's never shot worse than 44 percent from that range in any one season, and the mid-to-long range 2 has become his bread and butter.

That's why it's a little alarming that Garnett's shooting just 40 percent from that area of the court so far this season. That's not a massive discrepancy from previous years, but the number was hair off 35 percent before KG caugfht fire on Sunday, and the sample size for KG's career is also big enough so that we have a pretty good idea of what he does, and at what rate. Is it simply a slow start for the 36-year-old future Hall of Famer? Or has the wear and tear from battling in the paint all those years started to tarnish one of the best parts of his game?
Hop
HERE
to read the entire article. Sound off with your thoughts in the comments.
PODCASTS
Peter King, NFL
Play Podcast Sports Illustrated's Peter King weighs in on the Patriots' offensive line, the outlook for New England, Jim Harbaugh's relationship with his team and the Cowboys' success.
Opening Rant, 9/30
Play Podcast Colin Cowherd shares his thoughts on the state of the Patriots, New England's offense and Brady Hoke's future at Michigan.
First Take
Play Podcast Skip Bayless & Stephen A. Smith debate if the Patriots dynasty is over, if the 49ers have stopped listen to Jim Harbaugh and more. Plus, they make their World Series predictions.