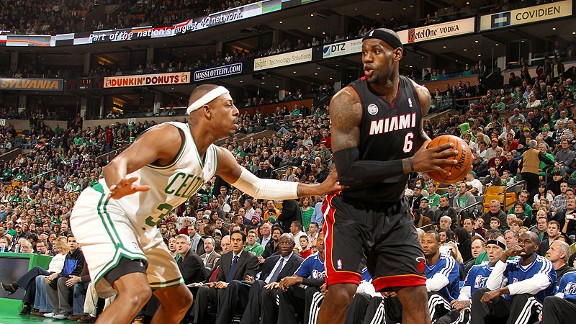 Nathaniel S. Butler/NBAE/Getty Images
Paul Pierce defends LeBron James during Sunday's showdown at TD Garden.BOSTON -- Rapid reaction after the Boston Celtics defeated the Miami Heat 100-98 in double overtime on Sunday afternoon at TD Garden:


THE NITTY GRITTY
Paul Pierce took the triple-double baton from the injured Rajon Rondo and, even if it was a particularly messy line (17 points on 6-of-16 shooting to go along with 13 rebounds, 10 assists and 6 turnovers), he came up with some big plays down the stretch in the second overtime to help Boston escape. Kevin Garnett added a team-high 24 points on 10-of-19 shooting with 11 rebounds. Jason Terry (13 points) and Jeff Green (11 points) added a bench spark, the latter providing some fantastic defense down the stretch. James finished with a game-high 34 points on 14-of-31 shooting with 16 rebounds and 7 assists. Dwyane Wade added 17 points, while Chris Bosh had 16 points and 16 rebounds. Ray Allen finished with 21 points over 39 minutes in his return to Boston.
RONDO LOST FOR SEASON
Rondo was a late scratch for Sunday's game with what the team termed a hyperextended right knee. But news went from bad to worse when MRIs performed during the game revealed an ACL tear that will end Rondo's season. The Celtics, already pondering their direction amidst a season-worst six-game losing streak entering Sunday's game, must now determine if they are still playoff contenders without Rondo (something Sunday's win seems to confirm) or if it makes more sense to start a roster overhaul with the approaching trade deadline.
TURNING POINT: SEESAW REGULATION
After a seesaw second half, Pierce hit a 6-foot pull-up jumper and -- after a couple of defensive stops -- Garnett nailed an 18-foot jumper for an 85-81 lead with 59 seconds to play. Pierce committed another late-game miscue and Allen made it hurt with a 3-pointer from the left corner to make it 85-84 with 25.1 seconds to play. Terry made some clutch free throws with 21.2 seconds to go, but James chased down a long rebound of an Allen missed 3-pointer and tied the game with one of his own. Terry missed a 3-pointer over Allen at the buzzer to force overtime.
FREE BASKETBALL!
The Celtics -- coming off a double-overtime game in Atlanta two nights earlier -- were playing their eighth overtime game of the season and it didn't go well. A pair of second-chance efforts helped James score consecutive buckets and put the Heat up 93-89 with 1:59 to play. The Celtics answered with a pair of baskets from Garnett to tie the game at 93 with 74 seconds to play and the game tumbled into a second overtime.
OVERTIME 2
Rondo emerged from the tunnel to watch the second overtime and maybe gave the Celtics a little spark. James produced an old-fashioned three-point play with Pierce looking to take a charge and the Heat went up 98-95 with 62 seconds to play. Boston answered with a driving layup from Terry and a Pierce 22-foot pull-up to take a 99-98 lead with 30.4 seconds to go. James missed a jumper over Green and Pierce got the rebound and a quick foul, but hit only one of two freebies to put Boston up two with 5.1 seconds to go. Shane Battier's 3-pointer in the final seconds never had a chance.
SULLINGER GETS FIRST NBA TECH
Sullinger, a whistle magnet this season, earned his first NBA technical foul for essentially letting Rashard Lewis put him in a sleeper hold. Sullinger finished a layup in transition and got tangled with Lewis trying to head back up court. Lewis wouldn't take his hands from around Sullinger's neck and the rookie eventually shoved at Lewis in frustration. Referees assessed a double technical, though Sullinger likely didn't deserve his half of that infraction. Sullinger started for Boston and finished with seven points and four rebounds over 23 minutes.
WHAT IT MEANS
The Rondo news leaves this team reeling, but Boston produced an inspired win on Sunday. The Celtics snapped a six-game losing streak with maybe their biggest win of the season, toppling the East's leader with a double-overtime effort. Boston gets a couple of days off before hosting the Sacramento Kings on Wednesday night at TD Garden.