W2W4: Celtics vs. Nuggets (Game 53 of 82)
February, 19, 2013
2/19/13
12:00
PM ET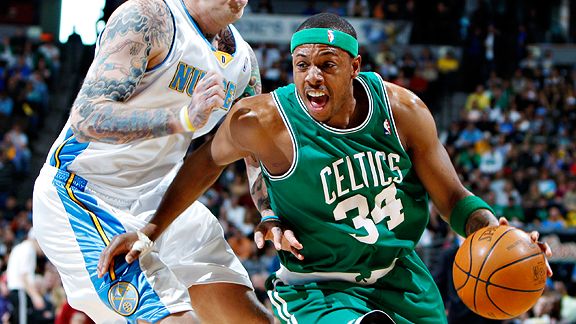 AP Photo/David ZalubowskiPaul Pierce and the Celtics start the second half of the season in Denver.
The Boston Celtics (28-24, 8-15 away) visit the Denver Nuggets (33-21, 22-3 home) on Tuesday night at the Pepsi Center (9 p.m., CSN). Here's what to watch for:


*
YOU AGAIN?!
: The Celtics and Nuggets played 15 extra minutes two weeks back as Boston emerged with a gritty triple-overtime win. Both sides felt the aftereffects, but will be fresh coming off the All-Star break. The Nuggets have been nothing short of dominant at home, losing only three times (Miami, Minnesota, Washington), but Boston did send Denver into a bit of a pre-All-Star funk. After having their nine game-winning streak snapped at TD Garden, the Nuggets lost three straight to close out a four-game road trip -- the last two, Denver was without Danilo Gallinari (illness) and Andre Iguodala (neck).
*
ON THE ROAD AGAIN
: The Celtics won eight of their last nine before the All-Star break, but seven of those wins came at home. Boston needed a fourth-quarter rally to top Toronto on the road, then stumbled in Charlotte (the night after the triple-OT win against Denver). This road trip should offer a better gauge of just how competitive this team is and how much mental resolve they own after losing Rajon Rondo, Jared Sullinger, and Leandro Barbosa.
*
IGNORE THE NOISE
: The post-All-Star trip is never easy on Boston's nerves. The road trip is daunting enough with five games in seven days, but then you factor in Thursday's trade deadline smack dab in the middle. Players can't help but worry about their futures when their names swirl in rumors, but Boston has to keep its focus on the court. In fact, playing inspired ball early on this trip might only further convince Celtics president of basketball operations Danny Ainge to keep this roster intact through Thursday's deadline.
*
LAWSON IN FOCUS
: The Celtics absolutely have to do a better job on point guard Ty Lawson, who erupted for a game-high 29 points in the first meeting and his late-game heroics helped force overtime. Lawson is scorching the floor while shooting 62.3 percent and averaging 28 points over the last three games.
PODCASTS
Peter King, NFL
Play Podcast Sports Illustrated's Peter King weighs in on the Patriots' offensive line, the outlook for New England, Jim Harbaugh's relationship with his team and the Cowboys' success.
Opening Rant, 9/30
Play Podcast Colin Cowherd shares his thoughts on the state of the Patriots, New England's offense and Brady Hoke's future at Michigan.
First Take
Play Podcast Skip Bayless & Stephen A. Smith debate if the Patriots dynasty is over, if the 49ers have stopped listen to Jim Harbaugh and more. Plus, they make their World Series predictions.