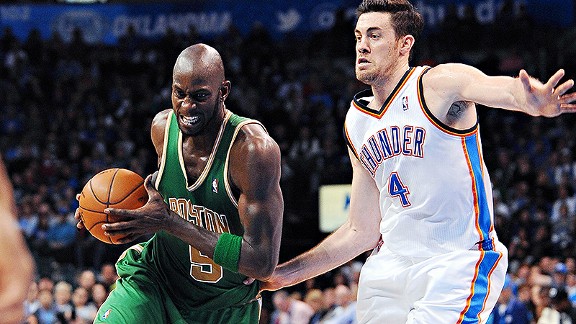 Mark D. Smith/USA TODAY Sports
Celtics center Kevin Garnett drives on Sunday against the Thunder.Rapid Reaction after the Oklahoma City Thunder defeated the Boston Celtics 91-79 on Sunday afternoon at Chesapeake Energy Arena:


THE NITTY GRITTY
The Celtics did a solid job defensively (limiting the high-octane Thunder to 44.1 percent shooting and virtually eliminating second-chance opportunities), but Boston got sloppy with the ball (19 turnovers for 19 points), couldn't get to the free-throw line with any frequency (Oklahoma City pretty much doubled-up the Celtics' makes at the stripe, 27-14) and simply couldn't buy key baskets when they needed them most (Kevin Garnett missed 10 straight shots at one point). Paul Pierce finished with a team-high 20 points on 6-of-12 shooting, but battled foul trouble. Avery Bradley chipped in 12 points and played terrific defense on Russell Westbrook (15 points), while Garnett put up a double-double (10 points, 11 rebounds) despite an atrocious shooting night (5-of-19). Kevin Durant scored a game-high 23 points on 6-of-16 shooting with 11 rebounds to pace the Thunder.
TURNING POINT
The Celtics were within three at the start of the fourth quarter, but went ice cold from the floor. Boston missed 16 of its first 18 attempts in the frame as the Thunder stretched their lead as high as 14. A little 6-0 burst featuring a Kevin Martin pull-up, a Westbrook layup and a Durant jumper put Oklahoma City up 87-73 with 3:13 to go.
TURNOVERS
Blame it on the matinee start (and the clocks springing forward), but the Celtics turned the ball over nine times in the first quarter leading to 10 Thunder points. Jason Terry was the primary offender with three giveaways in the frame, but five Boston players gave the ball away. The Celtics took better care of the ball the rest of the way, but a typically sloppy Thunder squad (26th in the league in turnover percentage) limited their own giveaways (15 turnovers for nine points).
WHERE'S THE BENCH?
Boston's bench -- one of its biggest weapons in the recent surge -- mustered a mere 23 points on 7-of-25 shooting (30.4 percent). Jeff Green, playing his first game back in Oklahoma City since being traded to Boston in February 2011, missed nine of his 11 shots with more turnovers (3) than rebounds (2) while finishing with eight points over 28 minutes. Terry hit a pair of late 3-pointers to finish with a bench-high nine points, but struggled before that.
WHAT IT MEANS
The Celtics (34-28) saw their five-game winning streak snapped and slid back into a tie with Atlanta for the sixth seed in the Eastern Conference. Despite the setback, they can pluck a lot of positives from this game against a Western Conference juggernaut. Boston takes Monday off before visiting the bottom-dwelling Charlotte Bobcats (13-50) on Tuesday night to wrap their brief two-game road trip.