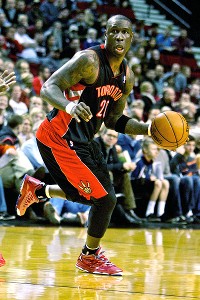 Craig Mitchelldyer/USA TODAY Sports
Mickael Pietrus hasn't seen much court time in Toronto.BOSTON -- Mickael Pietrus invaded the home locker room before the Celtics hosted the Raptors on Wednesday night at TD Garden and glanced wistfully at his old locker stall while greeting former teammates. Truth be told, he never really wanted to leave here and hasn't quite come to terms with the fact that he didn't return to Boston this season.
"I can't get over it. I cannot," admitted Pietrus. "I'll be honest with you guys. I just can't because Boston was what I like to do -- fight, protect your jersey and that's what I like to do. It is what it is. You never know, hopefully I'll be back. Cross your fingers."
Pietrus spent much of the summer holding out in hopes of landing something above a minimum contract, but the Celtics had little financial flexibility and ultimately maxed out their guard depth by adding Jason Terry, Courtney Lee and Leandro Barbosa.
Pietrus didn't find work until after the season started, when he signed a minimum-contract deal with the Raptors in late November. The 31-year-old guard started in 16 of his 18 total appearances while averaging 5.6 points and 1.9 rebounds over 21.3 minutes per game, but hasn't played now since Jan. 9.
Pietrus, who expressed an insatiable desire to chase a title after he signed with Boston on Christmas Eve 2011, seems a bit crestfallen by the idea of riding the bench for a lottery-bound team. He did perk up when asked if he'd consider playing for the Celtics in the future.
"I would love to play with those guys in the locker room -- KG, Paul Pierce. Any time they want to make a championship run, it would be great for me to play for them," said Pietrus, who called the 2011-12 Celtics the best team he has played for. "I had fun. Boston is right here [pointing at his heart]. It is what it is. I have to move on. We've moved on already. But you never know. Life changes fast. Maybe I can wear that green again."
Pietrus deemed himself in full health, this after battling both knee and concussion issues that detoured him at times in Boston. Having lost Barbosa for the season, the Celtics could have certainly used Pietrus around -- for his contributions on and off the court.
"He was great for us," said Celtics coach Doc Rivers. "He's another one of those guys that you want, not only on your team, but in your locker room because he's a sunshine-bringer. You laugh when you see him. When he's around, he works hard, but he keeps things happy."
Pietrus logged his 30th consecutive DNP during Wednesday's loss in Boston.
Read on for more postgame notes, including Rivers on how Garnett and Pierce make him a smarter coach, Boston getting to the charity stripe with frequency (for a change), and what the future holds for D.J. White and Shavlik Randolph:
* KG + PIERCE = SMART COACH: As Garnett and Pierce shuffled up the NBA's all-time scoring list (KG is now 15th; Pierce 20th), Rivers didn't try to hide the fact that great players make coaches look good. "It's made me a lot smarter, there's no doubt about that, and I'm honest about that," said Rivers. "I mean, they make you so much better of a coach than what you are because you have guys who make a bad play look good. Because they have the ability -- I don't know how many bad plays that I've called that Paul has scored on because he's a professional scorer. For Kevin, he bails you out with a great play -- passing or shooting. That's why they are so good. That's why the teams they play on all win."
* C'S GET SOME CHARITY: The Celtics are tied for 19th in the league in free throw attempt rate -- a metric aimed to measure the amount of free throws generated per field goal attempt. It's no secret that Boston doesn't get to the line with much frequency, but the Celtics held a little parade to the charity stripe on Wednesday. Boston generated 35 attempts (11 for Paul Pierce) and generated 28 points at the line. Twenty-five of those attempts came after the intermission, when Boston put a renewed focus on attacking the basket. "I just thought we settled a little bit [in the first half]," said Rivers. "We had the one 10-point lead and it was all to the basket, then we went back to all jump shots. Once we went small, I thought we had the floor spaced and we should attack the rim, and we did that."
* RIVERS NOT WORRIED ABOUT 10-DAY CONTRACTS: Both D.J. White and Shavlik Randolph have about another week left on their second 10-day contracts with the Celtics and Rivers said he's not overly concerned about their futures at the moment. "Honestly, I don't even pay much attention to it," said Rivers. "I don't even know what day it expires or anything like that. So we go to the end. It's funny, they struggled in the second half [against Charlotte], but I thought both of them, in periods in the first half, played pretty well for us. So it's just difficult for those guys. They're not going to play a lot and there are going to be spotty minutes and you're asking them to play well not having been with the team all year. That's hard to do." White and Randolph played the final 2:38 of Wednesday's win over the Raptors.