BOSTON -- While some players working on 10-day contracts might have dodged a question about their fledgling role with their team, Shavlik Randolph seemed to embrace it. Asked about his responsibilities with the Celtics, Randolph laid it out there: Minutes will be limited, unless one of Boston's primary bigs is battling foul trouble or fighting an injury.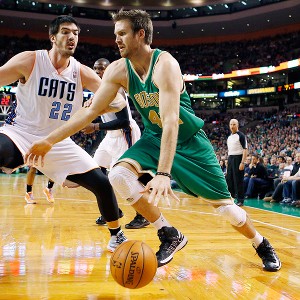 AP Photo/Michael Dwyer
Shavlik Randolph at work Saturday night against the Bobcats.Well, that exception was in play on Saturday, as, with Kevin Garnett sitting out against the Charlotte Bobcats due to a left adductor strain, Randolph received an uptick in minutes and responded with energetic play that led to his finest performance in a Celtics uniform so far: six points, a team-high eight rebounds and two steals in 15:23 of floor time as Boston upended the Bobcats, 105-88.
"He was great," coach Doc Rivers said of Randolph. "I thought he just came in and made things happen. Rebounded the heck out of the ball -- both ends, offense and defense. Threw his body around. It was good. Made a couple great passes, just instinctive cuts to the basket. So I was really happy with that."
Randolph is a little over halfway through his second 10-day agreement with Boston, and the next decision -- retaining him for the season or releasing him -- will be a permanent one. But if the type of effort Randolph showed on Saturday is any indication of what he can provide -- even in limited minutes -- Boston might be more inclined to keep him around for the remainder of the season.
Randolph checked in early in the second frame and immediately gave Boston a spark. In a span of 23 seconds, Randolph pulled down three rebounds, the last of which was an offensive carom that he turned into his first basket. He secured the ball along the left baseline, surveyed Byron Mullens in front of him, and attacked. He absorbed the contact in the lane and finished the shot, drawing a foul in the process. A passionate fist pump from Randolph came right after the whistle.
"There's a lot of great players on this team, and my role is just to play off them," Randolph said. "It's very simple, it's not that hard. My goal is to try to rebound everything I can get my hands on and, if I'm given an open shot, try to hit it, and when I get around the basket, try to finish opportunistically, and that's what I'm going to try to do."
When Randolph checked back out roughly two minutes later -- his floor time totaling just over 4:30 by that point -- he already had four points, five rebounds and two steals. He made enough of an impression for Rivers to want to continue playing him in the second half.
"I just thought Shav played better," Rivers said. "I thought D.J. (White) came in and played OK, and then Shav came in and played great. So I just played Shav."
Added Randolph: "(I'm) just playing with a lot of energy, trying to rebound, crash the offensive glass. Trying to take charges, still haven't quite been able to get one yet, but I feel like it's coming real soon. I feel like they're going to give me a charge here soon. But just trying to play sound defense and when I come into the game just try to make sure the energy level doesn't drop off at all."
Randolph hardly shot a marvelous percentage -- he made just three of his nine field goal attempts -- but it was the energy around the shot attempts that rang most true on Saturday. Boston doesn't need Randolph to score a hefty number of points, even in a blowout win. But if he can help to generate offensive rebounds, contribute to the team's overall energy level and remain active on the defensive end, he just might earn himself a home in Boston for the next several weeks.
"It's just staying aggressive, trying to be the attacker instead of getting hit," Randolph said. "You're going to miss shots -- some shots aren't going to get in. Sometimes you're not going to get calls. But you've just got to keep playing. I saw opportunities to score and to take it to the basket, and I took advantage of it."