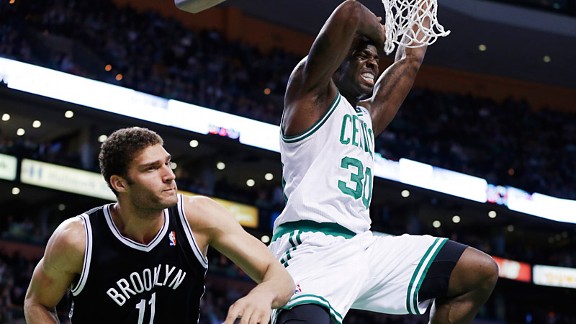 AP Photo/Elise Amendola
The aftermath of Brandon Bass' poster dunk on Brook Lopez.BOSTON -- Rapid reaction after the Brooklyn Nets defeated the Boston Celtics 101-93 on Wednesday night at TD Garden:


THE NITTY GRITTY
Deron Williams scored a game-high 29 points on 9-of-18 shooting to go along with 12 assists, while Brook Lopez added 21 points (and was a team-best plus-27 in plus/minus). Old friend Joe Johnson finished with 20 points, while Reggie Evans was his usual rebounding presence, grabbing a game-high 14 boards. For Boston, Paul Pierce scored a team-high 23 points on 7-of-11 shooting with three rebounds, three assists and three turnovers over 32:44. He didn't get much help as Brandon Bass (10 points) started fast and quickly cooled, while Jeff Green was 4-of-17 shooting for 11 points.
TURNING POINT
The game got away from Boston over the final four minutes of the first half. The Celtics were up a point until the Nets embarked on a 15-3 run, connecting on six of seven attempts (with Lopez accounting for seven points). Boston missed four of its five shots during the run and turned the ball over twice. A Jerry Stackhouse free throw with 15 seconds to go in the second quarter had the Nets on top 53-41. Boston never got closer than eight the rest of the way.
BASS POSTERIZES LOPEZ
One of the few highlights for Boston: Bass put Lopez on poster in the first half. Coming off a little pick-and-roll on the right wing, Bass drove free to the hoop before Lopez shuffled over with help. It did little to detour Bass, who threw down a ferocious two-handed slam that left Lopez recoiling.
NOT-SO FREE THROWS
The Celtics went the entire first half without attempting a free throw and didn't get to the line until Paul Pierce drew a shooting foul with 8:22 to play in the third quarter. Pierce got to the line seven times in the frame, but Boston finished with just 17 attempts. The Nets were 25-of-28 overall at the stripe.
FOUL TROUBLE FOR BRADLEY
Avery Bradley spent much of the night in foul trouble. He picked up his first foul 52 seconds in and was on the bench less than three minutes later for his second whistle. Bradley played five second-quarter minutes before picking up his third foul. It took a mere 39 seconds for Bradley to get his fourth at the start of the third quarter (and he was quickly pulled from the game again). Bradley finished with two points and five fouls over 12:11 and wasn't able to help slow Williams.
SCOREBOARD WATCHING
It wasn't all bad news for Boston as Milwaukee fell in overtime in Orlando, keeping the Bucks three games back of the Celtics (and trimming Boston's magic number to two to ensure no worse than the seventh seed). Meanwhile, the sixth-seeded Hawks throttled the 76ers, moving 2.5 games ahead of Boston.
TECHNICAL DIFFICULTIES
Garnett picked up his team-leading eighth technical foul of the season late in the first half. That's two in two games since Garnett returned from left ankle inflammation. The next closest player for Boston? Rehabbing Rajon Rondo at four. Doc Rivers does have seven techs on the season (trailing only Indiana's Frank Vogel among the league's coaches).
WHAT IT MEANS
The Nets continue to frustrate the Celtics, winning the season series by taking three of the four meetings. Rivers joked before the game that he hoped Williams would have another off night; it didn't happen. The Celtics play three of their final four regular-season games away from TD Garden and head out on a two-game road trip now with a Floridian back-to-back, in Miami (Friday) and Orlando (Saturday). Boston wraps its home slate on Tuesday with a visit from potential playoff foe Indiana Pacers in a national TV battle.