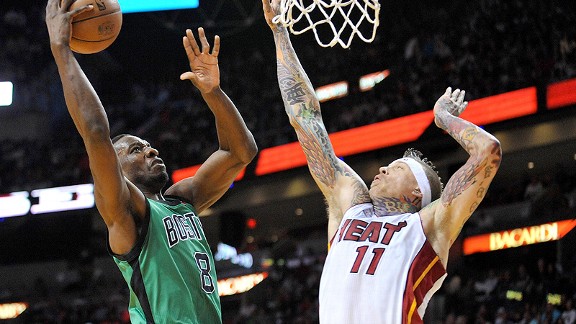 Steve Mitchell/USA TODAY Sports
Boston's Jeff Green soars at Miami's Chris Andersen.MIAMI -- Rapid reaction after the Miami Heat defeated the Boston Celtics 109-101 on Friday night at AmericanAirlines Arena:


THE NITTY GRITTY
LeBron James scored 20 points on 8-of-10 shooting (mostly of the emphatic dunk variety) with 9 assists and 6 rebounds over 29 minutes, while Rashard Lewis scored 19 points on 7-of-11 shooting to spark Miami's bench effort (which also saw old friend Ray Allen score 17 points on 5-of-6 shooting). The Heat scorched Boston by connecting on 12-of-23 shooting beyond the 3-point arc. Jeff Green scored a team-high 25 points on 10-of-17 shooting with eight rebounds before departing the game with a bruised elbow. Courtney Lee got hot late to finish with 18 points on 8-of-16 shooting, while Jordan Crawford got off to a fast start, but went cold late while scoring 20 points on 7-of-15 shooting.
TURNING POINT
Despite allowing the Heat to shoot a ridiculous 84.2 percent in the second quarter (Miami made 16 of 19 shots), the Celtics were still hanging around in the third frame. Eight consecutive points by Crawford, including back-to-back 3-pointers, whittled Miami's lead to five, but the Heat responded with a 7-0 run, including a layup from Chris Bosh for a 72-60 lead with seven minutes to play in the frame. Boston never got closer than seven the rest of the way, with Lewis unleashing a 3-point barrage spanning the fourth quarter as the lead ballooned as high as 16 early in the final quarter.
SCOREBOARD WATCHING
The Hawks rallied to top the visiting Bucks on Friday night, which means Milwaukee will remain three games back of Boston with three games to go. The Celtics' magic number to secure the seventh seed dips to one; any win (or Milwaukee loss) over the final three games of the regular season ensures Boston won't be back here in Miami to open the playoffs next weekend.
GREEN BRUISES ELBOW
Celtics forward Jeff Green suffered a bruised left elbow in the fourth quarter and did not return. Green was in a world of hurt after landing hard on his left arm after an emphatic dunk. He tried to tough it out on the bench, putting a shooting sleeve over the elbow, but soon retreated to the locker room with trainer Ed Lacerte.
WHAT IT MEANS
The Celtics got a chance to give some role players extended run and, so long as Green's elbow injury isn't anything major, there were some positives to pluck from this one (Lee and Crawford had solid nights in spurts). Then again there were plenty of negatives, too (Jason Terry had another very quiet night; the 3-point defense was terrible; and defensive lapses were prevalent all over the floor -- though that could be expected at times without two starters). Boston expects to have Paul Pierce and Kevin Garnett back on Saturday night when the Celtics wrap up a Floridian back-to-back against the Orlando Magic. Two days off loom after that before Boston completes its regular-season schedule with another back-to-back (the Pacers visit Tuesday before a trip to Toronto on Wednesday).