Knicks out for payback
April, 14, 2013
4/14/13
10:00
PM ET
By
Ian Begley, ESPNNewYork.com
It's been nearly two years, but Carmelo Anthony still remembers. He knows exactly how he felt after the Boston Celtics swept the New York Knicks out of the 2011 playoffs. And he'll use that as motivation this time around against Boston.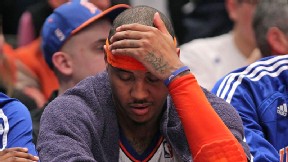 Nick Laham/Getty ImagesCarmelo Anthony still remembers the pain of New York getting swept by the Celtics in 2011.
"That's in the back of our minds," Anthony said. "We want to beat Boston. I mean, let's be quite frank."
Anthony and the Knicks will be out for revenge this weekend when they face the Celtics in the first round of the playoffs. New York set up the matchup with their longtime rivals by beating the Pacers, 90-80, on Sunday afternoon. That win clinched the second seed in the Eastern Conference for the Knicks. Boston is the seventh seed. Game 1 of Knicks-Celtics will likely be Saturday at Madison Square Garden.
"We're looking forward to that matchup. We know what type of series it's going to be," Anthony said. "It's going to be a grind out, battle series, tough series, physical series. We're looking forward to that."
Hop
HERE
to read the full story on ESPN New York.
PODCASTS
Peter King, NFL
Play Podcast Sports Illustrated's Peter King weighs in on the Patriots' offensive line, the outlook for New England, Jim Harbaugh's relationship with his team and the Cowboys' success.
Opening Rant, 9/30
Play Podcast Colin Cowherd shares his thoughts on the state of the Patriots, New England's offense and Brady Hoke's future at Michigan.
First Take
Play Podcast Skip Bayless & Stephen A. Smith debate if the Patriots dynasty is over, if the 49ers have stopped listen to Jim Harbaugh and more. Plus, they make their World Series predictions.