Boston Celtics coach Doc Rivers gave Shavlik Randolph a quick hook during Saturday's win in Orlando, pulling the big man a mere 46 seconds into his first shift and he didn't play again until the final minutes. What happened?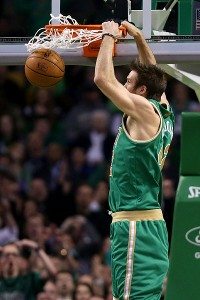 Barry Chin/Boston Globe/Getty
Shavlik Randolph throws down a dunk for the Boston Celtics."Defense," said Rivers. "Defensively, he's got to know our schemes and I just explained that to him."
Randolph got outmuscled by Nikola Vucevic for a quick bucket after checking in, then fouled Vucevic trying to force him off the blocks next trip down. Rivers sent in Chris Wilcox, who played 20 minutes with four points and six rebounds.
Randolph didn't return until the final 2:10 of the game. Despite the quick stint in the doghouse, Rivers was confident Randolph would rebound from the lesson.
"[His defense will] come back," said Rivers. "He's had a couple bad games in a row, [but] it's more he didn't play a lot, No. 1. So he'll be fine. Shav will rebound tomorrow, the next day, and the next day."
For his part, Randolph, who has endured his share of bumps and bruises lately, didn't pin the quick hook on injury. Earlier this week he noted, "It was just an in-game decision. I think [Rivers] just decided it was a better personnel move, which he was obviously right."
Randolph ascended to the role of first big off the bench with his inspired play in recent weeks. But while his rebounding has been a boon for Boston, his defense hasn't been consistent enough for Rivers.
While Wednesday's visit to Toronto is somewhat perfunctory for most, it would benefit Randolph to make the most of his floor time. Rivers had said a night before benching Randolph that the 29-year-old center had positioned himself for playoff minutes because of the way he typically performs.
"He's the aggressor. That's what we need off the bench. He's an instigator," said Rivers. "When he comes in the game, he's a natural instigator. It's not the fake instigator who tries to start stuff. He doesn't do any of that. He plays so hard that he really gets under the skin of his opponents. And you like that. Forget that he's our best rebounder too, but the fact that he's able to do that in his natural play... I still say what Red [Auerbach] said all the time: As many instigators as you can get on your team, you want them. And he's one of those. He does it in practice. In every practice, he gets under somebody's skin because he outworks them, he outrebounds. He's a great player to have on your team."
Asked before the Miami game if Randolph would be part of the playoff rotation, Rivers said, "Most likely. Obviously, you shorten your rotation, but I would say most likely."
Randolph knows that the Knicks go small at times, but is hoping to carve out a postseason role.
"I'm very excited. Like I said, whether I get to play, whether I don't play, just to be part of it, to be part of playing with the Celtics in the playoffs and seeing what that's part of -- whether I play or not -- it's going to make me better," said Randolph.