WALTHAM, Mass. -- The Celtics are still determined to establish Kevin Garnett on offense early in Game 3 of their first-round playoff series with the Knicks on Friday, but doing so can't come at the expense of Jeff Green.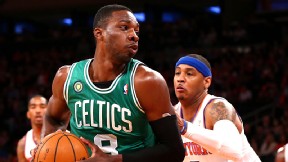 Debby Wong/USA TODAY Sports
Jeff Green works against Carmelo Anthony during the Celtics-Knicks first-round series.As important as Garnett and Paul Pierce are to the Celtics' offense in this series, Green is the potential difference-maker on that end of the floor for Boston. As he exhibited in the first half of Game 1 -- 20 points on 7-of-10 shooting -- Green can carry the Celtics for prolonged periods of time.
But Green failed to find the same rhythm offensively in Game 2, and foul trouble contributed to an 0-for-6 shooting effort in the second half, as Boston mustered a mere 23 points as a team over the same stretch.
Celtics head coach Doc Rivers said he wasn't happy with the shots Green was getting in the second half of Game 2, as Boston's sluggish offense left him in too many isolation situations, sometimes late in the shot clock.
"Not the same shots (in the second half of Game 2). Not even close," Rivers said of needing to get Green better shots. "It's (isolations), it's clog, it's standing around. His second half shots -- and it's not because of him -- have been pretty much awful for him and it's because of the way we play. We have to create space for Jeff Green. If you going to have a Westbrook or Jeff playing, you want to create space for them to be athletic and we're not doing a very good job of that."
Green didn't want to make excuses for his poor shooting performance in Game 2, saying he needs to remain aggressive, regardless of what the shot clock looks like when he gets the ball.
"It's just how we run our offense," Green acknowledged. "I've just got to try to make a play. I can't take it as getting the ball too late, it's hard to make a play. I've just got to be aggressive and find a way. I can't rely on every time down the floor to try and get the ball early. Whenever the ball comes to me, I have to be aggressive."
These Celtics will never be a one-man act on offense, but so far they've failed to strike the needed scoring balance between Green, Garnett, and Pierce. There's a clear need for Garnett to be more assertive -- particularly in the post -- but as Game 2 showed, if Green doesn't get his own rhythm going early, he can disappear for extended stretches. It's a challenge with no simple solution, though Green seems most focused on the different ways he, Garnett, and Pierce can each get going.
"I think we just establish ourselves in different ways," Green said. "With Kevin, more on the low block in the half court offense. Myself, I can get going in the half court and in transition, and so can Paul. I think we just need to find that happy medium and try to figure out where we can be most effective and try to get everybody involved."
Green acknowledged prior to Game 2 that all three players can help each other on offense, noting that his own aggressiveness can lead to better looks for Garnett.
"Well to make it easier for him in the post, I need to continue to be aggressive off the dribble, trying to get to the rim," Green said Tuesday. "Because if I do that, they're going to try to take notice of where I'm at on the floor and it's going to open up the lane for Kev."
While Garnett's foul trouble in Game 2 didn't allow Green the chance to do this, he'll have another opportunity on Friday. Green's determination to find the right balance is admirable, though he can't downplay his own importance in the matter. If the Celtics are going to win Game 3 and give themselves a legitimate chance in this series, they'll need Jeff Green to thrive on offense.