WALTHAM, Mass. -- Some of the draft hopefuls that hit the floor at the Boston Celtics' training facility enter in awe of the banners and the history they represent. For Missouri guard Phil Pressey, it was old hat.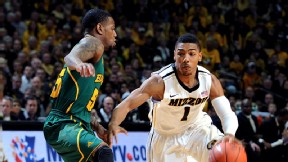 Dak Dillon/US Presswire
Phil Pressey is one draft hopeful trying to make an impression on the Celtics.Pressey's father, Paul, served as an assistant coach on Doc Rivers' staff in Boston from 2004-2006 (then spent a year as an advance scout for the team). A teenage Pressey was a familiar presence in the Waltham gym, whether it was shadowing his dad (and getting up shots with Rivers' kids) or practicing with former Celtics player personnel boss Leo Papile's BABC squad (one of the region's most decorated AAU squads).
"It's crazy, most of these coaches were here when my dad was here," Pressey said after a six-player workout on Saturday. "So it's like they saw me when I was in the 8th grade, 9th grade. It feels the exact same way when I got here. I don't feel like anything has changed much."
Well, one thing's changed: Pressey is about to embark on his pro career and is hoping to catch the eye of a team like the Celtics. Boston worked out 12 players -- heavy on ball-handlers and centers -- over two days last week, many of which -- like Pressey -- are pegged as second-round picks at best.
Boston previously owned two second-round selections (they turned out to be Nos. 39 and 45), but traded both to Portland last summer as part of a three-way sign-and-trade deal that delivered Courtney Lee. At the moment, the team only holds its first-round pick, No. 16 overall, in this year's draft.
So why bring in at least six guys that are pegged to potentially not even hear their named called on draft night? It might just be due diligence, but Boston could also manufacture a second-round pick by swooping up a player that slides through the cracks and giving that person a chance to earn a job at training camp.
The Celtics auditioned six players that were ranked 42nd or lower on ESPN.com's Top 100 board in Colorado State's Colton Iverson (42), Pressey (47), Texas' Myck Kabongo (49), Marquette's Vander Blue (68), Louisville's Peyton Siva (72), and Creighton's Gregory Echenique (not ranked).
Guys like Pressey and Siva are undersized guards with pass-first reputations. If the 2012-13 season showed anything, it's that the Celtics could use some backup ball-handling depth at the end of their roster. And while Boston is more likely to lean on a veteran body in that sort of role if it could find someone at the minimum price tag, it wouldn't be the worst idea to stash a ball-handler at the back of the roster to learn from a healthy Rajon Rondo (particularly with the uncertainty surrounding Terrence Williams as his legal issues play out).
As for Pressey, he made a somewhat curious decision to declare for the draft after his junior season, but said he's ready to start his pro career.
"Going into college, I wanted to break records. And I broke a lot records at the university of Missouri," he said. "The only thing I didn't do that I wanted to do was win a national championship. I felt like my game was ready to come to the next level. I felt like another year in college wouldn't help me. It would've done me justice, but not that much. My best move was for me to declare.
"People have just been telling me -- coaches and scouts -- to be who I am. That's a playmaker, passer as point guard. Create for other people; don't worry about scoring. If I can bring that to a team, that's what I'm going to do. I'm going to do whatever a team needs me to do. Like I said, they just told me to playmake and pass. That's my strength. I'm going to use that to my advantage."
Guys like Pressey hope these workouts -- even if they don't always play to the strength of point guards -- can show what their highlight reels don't make obvious, and that maybe some of their intangibles will shine through with a chance to shake hands with the talent evaluators and decision-makers they meet along the way.
One thing was clear with Pressey, he wasn't nervous on Saturday. Confidence has never been an issue for him and he certainly wasn't overwhelmed by his surroundings in the Boston practice gym. No, he felt right at home his entire trip.
"When I came into Waltham, I had to go to Bertucci's," said Pressey. "That's my spot right there. I had to hit that spot up. It feels like I came back home. It feels the same to me."