So what's your plan, smartypants?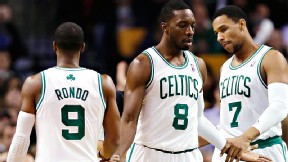 Greg M. Cooper/USA TODAY Sports
Are a healthy Rajon Rondo and Jared Sullinger enough to make Boston a contender again?Last week we examined four potential options for Boston's offseason, including Keep the Band Together; Goodbye, Captain; Out with the Old; and Complete Teardown. The only thing certain about the Celtics' offseason is that they have options.
But after laying out a plan, more than a few of you put me on the spot: What would you do if you were in charge? Well, they pay Celtics president of basketball operations Danny Ainge and coach Doc Rivers the big bucks for a reason, but here's one general sketch of what I'd do, and -- spoiler alert -- it falls closer to the boring "keep 'em together" approach than any crazy overhaul.
Here, in no particular order, is how I see the offseason potentially playing out:
* The Doc is in (until he says he isn't): Listen, this whole "What's going on with Doc?!" is no doubt a little awkward given his public silence on the issue, but I'll take him at his word when he says he's coming back until he says he isn't. Maybe if he wasn't in Waltham helping out with draft and free-agency preparations, I'd be concerned, but we saw him in the shadows at the training facility during predraft workouts last month. Maybe, just maybe he's kinda enjoying how worked up everybody is about the issue (or non-issue, depending on your view). And the uncertainty only gives him a tiny bit of leverage if push came to shove in roster construction. ("Well, Danny, I'd really love to come back, but I'd really love [Player X] in order to do such.")
* Sit tight, KG: With Jason Kidd announcing his retirement on Monday, Kevin Garnett is now the active leader in minutes (47,801) and games (1,323) played. He's also about three years younger than Kidd and while having transitioned from being The Kid to The Elder Statesman will give the 37-year-old Garnett increased pause about his future, he sure sounded like a guy ready for another season after Boston's early playoff exit. He'll have to sit tight while Boston's offseason plays out before he's ready to publicly commit to coming back to the green.
* Shop Pierce; No Bargains: Yes, the idea of paying Paul Pierce $15.3 million next season is tough to stomach for a team that ought to be back in the tax next season. That said, there's a lot of reasons to keep him, including 1) Despite a poor playoffs, he's still one of the better players in the league at his position; 2) He's the face of the franchise and a vocal leader; 3) He's on an expiring deal that could help free cap space by simply playing out the season; and 4) If the Celtics struggle during the season, there's always potential to trade him during the year (when contenders might be drooling for a veteran of his caliber). If the Celtics are going to move Pierce before the start of the 2013-14 season, they'd better be getting a potential franchise cornerstone in return, and trying to land that without having to sacrifice a young talent (Avery Bradley, Jared Sullinger) won't be easy. Teams are not going to mortgage their future for one year of Pierce's services (though the sign-and-trade market could aid Boston's cause slightly). For sheer hypotheticals, let's say Utah agreed to some sort of Pierce-for-Al Jefferson swap in fear of watching Jefferson simply walk away as an unrestricted free agent. The Celtics would be committing long-term dollars and essentially cramping their cap space for the foreseeable future. The team has to be certain the player it's pulling back -- in this case, Jefferson -- is someone that can pair with the likes of Rajon Rondo and Jeff Green as the core of the team for the long term. At some point, picking your pony with available cap space after the 2013-14 season might be a better bet than settling for what's available this summer given all the hurdles.
* Let Rondo rehab (and Sullinger, too): The Celtics have set aggressive timetables with a desire to have both Rajon Rondo and Jared Sullinger back healthy for the start of the season. There's no doubt that having their entire core -- regardless of how it looks -- back early in the season is ideal, but there's absolutely no reason to rush this process. If Rondo needs to sit out until Christmas, let him do it. Yes, it helps Boston to know what it has by the trade deadline, but that doesn't mean you have to have the team fully intact by Halloween.
* Clean up the midlevel logjam: The Celtics' biggest offseason issue if they keep the core together is trying to clear the logjam in the middle of their payroll. Between Brandon Bass (2 years, $13.3 million), Jason Terry (2 years, $10.7 million) and Courtney Lee (3 years, $16.4 million) there's an awful lot of long-term money committed. Bass played very well at season's end, but a healthy Sullinger could make him an overpaid reserve. Terry provides a nice veteran, ring-wearing presence, but his first season in Boston was a train wreck, putting him among the team's recent midlevel misses (Rasheed Wallace, Jermaine O'Neal). Given his age and potential, the team probably would love to give Lee another chance, but he's also the player most likely to have a decent trade market (based largely on past performance). Ultimately, somebody's probably got to go in order to chisel a little money off the books. Yet again, can Boston find a beneficial deal that doesn't force it to give up a quality young player just to right some salary wrongs?
* Draft: Adams or ball-handler: Drafting at No. 16, the Celtics might get an impact player, but one that's probably not going to have an impact immediately (see also: Bradley, Avery). So if Pittsburgh center Steven Adams is still on the board, start your own big-man boot camp with him and Fab Melo and hope to reap the low-cost benefits in future seasons (that's assuming, of course, that Boston is committed to the Fab Project). If Adams is off the board, Boston absolutely should consider the best available point guard option. A report out of Milwaukee Monday indicated that the Bucks -- picking one spot in front of Boston -- may have a promise to Miami's Shane Larkin. ESPN draft guru Chad Ford noted that German point guard Dennis Schroeder could have a promise from a team like the Celtics. Ball-handling was an issue last season and Boston could benefit from finding a cost-friendly, young guard to stash on the back of the roster.
* Nothing's guaranteed: The Celtics have three players with non-guaranteed, minimum deals that will earn a combined $3.1 million next season. Boston has to decide if late-season imports Terrence Williams and Shavlik Randolph have a spot on next year's roster. Williams is a tough call, in part because of his off-court issues last month (though he still has not been charged). Williams is a good value if he can stay focused and continue to blossom as a backup ball-handler. Randolph showed potential to be a solid rebounder in short minutes last season. But that duo -- along with Chinese Basketball Association import D.J. White -- also have value as trade filler, the sort that can help another team cut immediate cap space by waiving them upon arrival. Boston got creative and used similar deals for the likes of E'Twaun Moore and Sean Williams to facilitate the sign-and-trade swap for Lee last summer. If Boston can find an expiring deal by packaging the likes of Lee with the non-guaranteeds, then it might have to consider it for the long-term health of the salary structure. Is there someone on the Boston roster that old friend Ryan McDonough -- now the GM in Phoenix -- might covet in a swap for Marcin Gortat and his expiring $7.7 million deal? (Of course, cap space might be more valuable to the Suns than a familiar face on a lengthy deal.)
* Seeking veteran help: Are the Celtics still a "contender" destination? The type of place a veteran will sign for the minimum (or at least a reduced rate) in order to have a shot at winning a title? Boston could use some of those sorts of bodies if they keep the core intact. The Celtics' offseason priority list with a similar roster would almost certainly include 1) pure center size and 2) veteran ball-handling help. The former would take some of the wear-and-tear off Garnett; the latter would provide a safety net if Rondo is slow to return or limited at any point. Boston will likely have the mini-midlevel at its disposal to lure someone better than a minimum player. The free-agent marketplace looks thin, however, meaning the Celtics should tread carefully and err on the side of one-year deals.
The argument against this plan of attack is simple: Boston just endured a .500 season and a first-round playoff exit. Are a healthy Rondo and Sullinger enough to prevent a repeat? Well, that's maybe the best part of keeping the core intact: You get a chance to see what this group is capable of, and there's still potential to facilitate a transition-year overhaul at midseason. And you can make the case that contenders will be more likely to pay a ransom for a rental body such as Pierce or Garnett (or both?!) next February than they would be in June. A team that's looking to get over the hump and make a title charge is going to give up more when it knows it has a chance after the All-Star break than when it simply hopes it does in the summer.
Is keeping the band together ideal? Probably not. But for the long-term potential of this team, it's probably best to stick it out. It gives the Celtics the chance to remain competitive next season and, if this team simply cannot contend when healthy, you flip the switch to transition year. Then Boston can be deep-pocketed bidders in the bonanza summer of 2014 when the free-agent crop could be much glitzier and the draft is supposed to be stocked.