During the slower times during the offseason (and an early playoff exit has made the past few weeks a tough grind for Celtics fans), we'll occasionally reach into our Celtics Mailbag and pull out a question to field in the blog. Hop HERE to submit a question for an upcoming 'bag: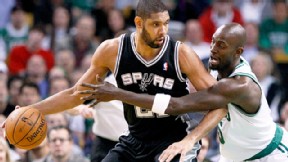 Yoon S. Byun/Boston Globe/Getty Images
Can Tim Duncan's success encourage Kevin Garnett and the Celtics?Q: Watching the San Antonio Spurs' run to the NBA Finals has me hopeful that the Celtics could possibly make one more run with this core intact. Does the outcome of this series have any impact on what Danny Ainge will do in the offseason? -- Justin (Phoenix, Ariz.)
A: No, the outcome won't sway Ainge one way or another. If the Celtics elect to keep this core together it will be because 1) Boston is hopeful that improved health gives them a better chance to be a contender and 2) it believes a roster overhaul will be easier next summer (or during the 2013-14 season if the wheels come off). That said, the Spurs' success this year sure makes it easier to sell your fan base on the "keep it together" model when you can note, "Hey, look what those old guys in San Antonio did this year!"
While I cringe a bit when people try to compare the Celtics' and Spurs' rosters, there's a case to be made that a well-coached, well-managed team can succeed with a familiar core surrounded by young talent. Boston has a similar situation, though it's no mirror image and the Spurs were most certainly healthier and deeper this season (at least they got more from their role players than Boston did for much of the year).
The Spurs' salary structure reminds us how important it is to draft right and make the right moves at the back end of the roster. While their own Big Three clog up the top of the salary totem pole (along with departed Stephen Jackson), no one else makes more than Boris Diaw at $4.5 million this season. The problem Boston has at the moment is that guys like Jason Terry and Courtney Lee are making $5 million per season and they were two of the biggest underperformers this past season. The optimist hopes that they are able to get back on track for the 2013-14 season; the pessimist wonders how Boston can even move those long-term deals in order to free space if they don't.
With limited resources this offseason, particularly if they elect to keep the band together, Boston has to really hit a home run with its available assets (whether that's the mini-midlevel, the bi-annual, or just minimum contracts). It reinforces how Boston must again get creative and determine whether its nonguaranteed deals might help land a more proven talent (something akin to the Courtney Lee swap last summer, but maybe with a less pricy return).
Your turn: Do the Spurs give Celtics' fans hope? Sound off with your thoughts in the comments.