Jared Wickerham/Getty Images
Can a young core keep Boston competitive this season?The summer doldrums are upon us. Even with all that sunshine outside, August can be the darkest month on the calendar for a hoops fan. With roster construction essentially complete, it's a slow crawl to the start of training camp in late September. Don't fret, we're here to help you get through this.
SUMMER FORECAST 2013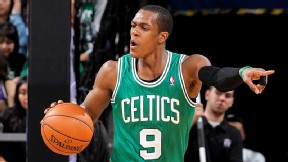 For three weeks in August we'll break up the summer doldrums by trying to predict exactly how the 2013-14 season will play out for the Boston Celtics. A rundown and recap of the series:
Each weekday for the next three weeks, our summer panel of prognosticators -- a motley crew featuring our friends in the Celtics blogging community -- will join forces to tell you how the 2013-14 season will play out for Boston. We'll gaze into our crystal balls and attempt to answer all your questions before this year's team even hits the floor together for the first time.
Up first this summer: Predicting the final regular-season record.
Two days ago, ESPN's national summer forecast -- a group of 215 hoops pundits -- projected Boston to finish 12th in the Eastern Conference with a record of 29-53. Too harsh? Too kind? Averaging up the votes received thus far in our ESPN Boston summer forecast, our prognosticators have Boston pegged at 31-51 overall.
We've noted in the past that it's really hard to make a firm prediction on a team when you can barely name the starting 5 (more on that later in the series). While Boston's young core has defiantly shunned the idea that the Celtics will endure their lumps this season or that the team should tank for an even better pick, the green have the looks of a team that could struggle. It's hard enough to win in the NBA, let alone with a point guard coming off ACL surgery or a 36-year-old head coach with no NBA experience or after trading away two Hall of Famers.
My best guess? Let's pencil in a record of 29-53. November looks incredibly daunting and we're just not sure it makes any sense to rush Rondo back for opening night. Boston plays a whopping 18 games in November, including six back-to-backs, all of which close on the road (those second-night stops are in Memphis, Miami, Minnesota, San Antonio, Atlanta, and Milwaukee).
The Celtics will know right away if they have the ability to overachieve. The guess here is that they'll quickly realize that this is a season to develop further continuity with the young core, identify the future building blocks, and learn Brad Stevens' system. But wins won't come easy, or as easy as they used to come (remember back in 2007-08 when Boston's newly minted Big Three had 26 wins before the ball even dropped to usher in the new calendar year?)
---
John Karalis, Red's Army (35-47)
I actually don't think this will be a horrible team. I think they'll be better than this record indicates. But there are a couple of things that will hurt the Celtics early:
1) Rajon Rondo may or may not be 100 percent to start the season. With this collection of young talent, Rondo HAS to play and play at the top of his game if this team is going to win games. It'll probably take him a little while to get into the swing of things.
2) It's a new team, with a tough November schedule. Even if Rondo is with the team to start the season, he's leading a brand new group into SIX back-to-back in the first month of the season. Almost a third of the team's back-to-backs will be gone before your Thanksgiving leftovers are. With a new system, new coach, and new rotations, they'll struggle early.
The silver lining here is that I think their second half will be OK, and it'll probably surprise a few people. I see them as a second-half "team no one really wants to face." The early struggles will saddle them with a pretty bad early record, though, which is probably just fine for Danny Ainge. In fact, early struggles, late success, miss the playoffs and get a decent slot in the lottery is probably a best-case scenario for Ainge.
---
November might be a brutal stretch, especially if Rajon Rondo isn't ready to go (and looking Rajon Rondo-ish) at the start of the season. Also, the NBA has a tendency to eat their young, so expect growing pains. With all that said, Rondo and the "core 4" (Jeff Green, Avery Bradley, Jared Sullinger, Kelly Olynyk) should be good enough to win more than a few games and keep the team out of the basement.
---
The Celtics aren't very good, but neither is the rest of the Eastern Conference's bottom half. Boston will certainly struggle until Rajon Rondo is back and playing at close to 100 percent, but between Jeff Green, Avery Bradley, Jared Sullinger and Kelly Olynyk, there is still enough talent to avoid a complete "bottoming out". I also think that between Rondo trying to prove he's healthy (and worthy of a max deal in 2015), Bradley trying to get his next contract, Green trying to prove he's a legit starter in this league, and Kris Humphries playing for his next deal, the Celtics have a ton of guys playing with chips on their shoulders. Of course, if Danny Ainge pulls off another major trade, the C's could see that 32-win total slip well into the 20s. But until that happens, this team is simply bad, not terrible.
---
Blasts from our bench
* Jay Ouellette, Red's Army (28-54): Paul Pierce and Kevin Garnett are gone. Doc Rivers has been replaced by Brad Stevens who, while I'm very excited about, has never coached an NBA game in his life (not saying this is a bad thing). It will just take him getting used to NBA schedules, practices (or lack thereof), players, etc. Oh and the health of Rajon Rondo.
* KWAPT, Red's Army (35-47): I tend to be Mr. Positive, so I'm going out a limb here in saying Rajon, Jeff, Avery and Sully will form a nice nucleus. If they can all stay healthy, (big if) I think they can run with a lot of the teams in our conference.
* Jon Duke, Celtics Stuff Live (30-52): "The team will move on from Kris Humphries and other veterans (Brand Bass and Courtney Lee?) at the trade deadline, but will end the year on a winning note as Rajon Rondo begins to find his stride and the younger players begin to understand Coach Stevens' system.
* Matt Rury, CLNS Radio (38-44): "Last year I overshot with my wins prediction by saying the Celtics were going to win 50+ games and take the Atlantic Division crown. We all know how that worked out. With that in mind, this year I am undershooting where I believe their talent could bring them in the improved Eastern Conference."
---
Your Turn: We hope you join the conversation. Vote in our poll and sound off in the comments with your prediction for Boston's record and how you think the 2013-14 season will play out. Hop HERE to read the full Summer Forecast series.
---
(Chris Forsberg can be reached at espnforsberg@gmail.com or on Twitter @ESPNForsberg. Hop HERE to submit a question for his Celtics Mailbag.)