The doctor will save you now
September, 20, 2013
Sep 20
8:30
PM ET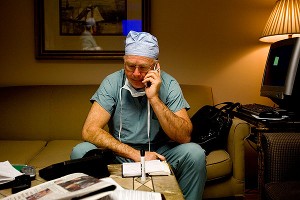 Matthew Williams for ESPNDr. James Andrews operated on Rajon Rondo in February.
While we wait to find out more about the rehab of Boston Celtics point guard Rajon Rondo, ESPN the Magazine takes an
inside look at the man who repaired his torn ACL
in February: Dr. James Andrews.
Surgical fellows in coats and ties strive to stay by his side. Presently, Andrews is nowhere to be seen. One of the fellows looks around, then says: "To be honest with you, he disappears. Eighty percent of our energy is just trying to keep up with him." Then from somewhere offstage, Foghorn bellows, presumably into his iPhone: "Hey man! He's got a partial ligament injury that probably hasn't quite declared itself yet. Here's what we're gon' do ..."

Andrews' days, and often his nights, are punctuated by such calls. The contact list on his iPhone has surpassed 3,000 names, among them athletes, agents, trainers, other orthopedists, coaches, GMs, owners. Within a six-month span this year, the list of damaged and diminished players who trekked to one of Andrews' two clinics -- the newer facility in Pensacola, the older and more established in Birmingham, Ala. -- included Redskins QB Robert Griffin III; MLB pitchers Matt Harvey, Sean Burnett, Jonny Venters, Jake Westbrook and Joel Hanrahan, along with second baseman Scott Sizemore and slugging wunderkind Bryce Harper; NBA draftee Nerlens Noel, Celtics point guard Rajon Rondo and Pacers forward Danny Granger; and dozens of other athletes undisclosed by their agents or teams. When his phone rings, it is part of Andrews' ethic that he never doesn't pick up.
Hop
HERE
to read the full story from ESPN the Magazine.
PODCASTS
Jeff Saturday, NFL
Play Podcast ESPN NFL analyst Jeff Saturday dishes on what Peyton Manning is like, Patriots-Ravens, the Cowboys' game management during the Packers' comeback and more.
Ron Jaworski, NFL
Play Podcast ESPN NFL analyst Ron Jaworski weighs in on Packers-Cowboys, the scrutiny of Tony Romo, Marc Trestman's decision to start Jay Cutler, Patriots-Dolphins, the Chiefs' offense and more.
Cris Carter, NFL
Play Podcast ESPN NFL analyst Cris Carter covers the criticism of Tony Romo after the Cowboys' loss to the Packers, the Giants' struggles, Tom Coughlin's future in New York, the state of the AFC and more.