NEWPORT, R.I. -- If you're anybody but Brad Stevens, your first honest-to-goodness practice session as the 36-year-old head coach of one of the most decorated franchises in sports is that moment the emotional roller coaster that has been slowly climbing the past three months since you were hired tips over the ledge and you go screaming into the formal start of your NBA journey.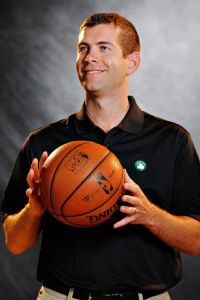 David Butler II/USA TODAY Sports
Celtics coach Brad Stevens.But Stevens is an emotional robot. The same guy who ho-hummed his way to center court after a heart-stopping buzzer-beating win over Gonzaga back in January showed up at Salve Regina College on Tuesday for Day 1 of training camp with the Boston Celtics and bashfully admitted he didn't even get a tinge of butterflies when he stepped onto the floor and blew the whistle to huddle his squad for the first time.
Asked after his team's double-session workout if he felt those first-day jitters, Stevens said, "I hate to say this, but no. I like [practice], it's a fun part of the job for me. I enjoy it. I enjoy getting back on the court. But the only thing I'm thinking about right now is that we have practices three and four [on Wednesday] and I've got to go back and write them up."
And so, with about an hour of sunlight left on a most ravishing first day of October in one of the most immaculate spaces in the region, Stevens hurried back to his hotel room to revise the offensive plays his team will install as part of Day 2's morning workout and the defensive drills that will make up the afternoon session.
"That's all I'm thinking about," Stevens said. "That's just the way it goes. I don't know when I lost my fandom and it became more of a job, but it did at one point."