BOSTON -- Boston Celtics point guard Rajon Rondo remained coy on a timeline for his return to action, but said his right leg is stronger, he's been fitted for a brace that could allow for contact activities soon, and he's anxious to be back on the floor with his teammates.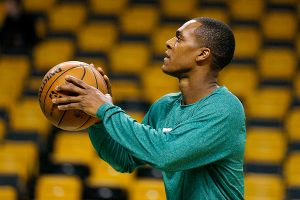 David Butler II/USA TODAY Sports
Rajon Rondo said his rehab is progressing well.Rondo, who underwent surgery in February to repair a partially torn ACL that ended his 2012-13 season, held an impromptu end-of-the-preseason state of the union on Wednesday night at TD Garden after the Celtics closed out their exhibition slate with a 101-97 victory over the starter-less Brooklyn Nets.
Asked to update his progress and any potential return timeline after he stepped to the podium, Rondo offered a wry smile and repeated what he said on Media Day last month, "I'll be returning in the 2013-2014 season."
He quickly added, "I'm feeling great, working out everyday. I'm able to do more as far as compound workouts, versus me just doing one workout per day. I'm doing more on my leg and I'm able to handle it. It's getting better, getting stronger every day."
Rondo revealed he recently got fitted for his first knee brace and noted, "I don't think contact will be too far from there." Rondo suggested he's waiting to be cleared by Dr. James Andrews before clearing that contact hurdle.
Asked when he hoped to be back on the court, Rondo said, "I hope I can play against the Raptors [on opening night next week], but that's not likely. I'm taking it one week at a time. I know it's getting stronger each week and whenever I'm able to jump off my right leg and probably dunk, that's when I think I'll be back to play."
If that sounds familiar, that's because it's the same line Chicago's Derrick Rose offered during his rehab from ACL surgery. Bulls fans will be quick to point out that Rose dunked off his right foot last season, but still didn't return to the court until the start of the preseason.
Rondo playfully pegged his leg at 87 percent ("depending on how my day goes") and said his body will tell him when he's ready to return.
"I'll know when it's right," said Rondo. "Everybody is different, each injury is different... For me, when I come back, I won't come back unless I know I'm myself again."
He won't come back at anything less than 100 percent.
"It's going to be hard to tell me to ease into something," said Rondo. "Once I get back out there, I want to go full speed. I don't want any limitations. That's when I'll return, when I'm able to do that."
Asked about his relationship with new coach Brad Stevens, Rondo joked about his growing reading assignments.
"Our relationship is fine, we talk everyday. He sends me texts all the time," said Rondo. "He's given me a second book now to read. I haven't read this much since college."
Pressed on what books he's been given, Rondo offered, "I can't give you the name of the book right now. My favorite book is called Mindset. I recommend you guys go buy it, it's a great book."
Read on for a few more highlights from Rondo's eight-minute chat on Wednesday night:
Rondo on his impression of this new-look team: "I think we got better each game -- besides the Minnesota game, we're getting better. Guys are still learning the rotations, but they are very open, so if we continue to grow and keep an open mind, we'll be better off than a lot of people expect. I'm looking forward to the challenge, myself, as far as what I can do from the sidelines for this team team for the time being. You can never underestimate a guy's heart. We have a lot of guys in the room that are up for that challenge."
On Gerald Wallace's comments questioning the team's effort: "Everybody has their opinion. I don't think Gerald is wrong to speak his opinion or speak his mind. I think a lot of what he was talking about is that you gotta play for one another. And maybe nights that you don't have your game going, offensively, you still have to get down and communicate on defense, help the next man and just play hard for the next guy. It may not be your night, and some nights it is going to be your night. But at the end of the day it's all about the name on the front of the jersey... All that matters is the wins and losses, not your individual stats. If we can continue to think like that, we'll be fine."
On Stevens as a coach: "Brad is not really strict, he lets you go out there and play the game. He just wants you to play each possession extremely hard. I think that's the way I approach the game and, offensively, he designed an offense that we can pretty much flow into things as far as pick-and-rolls, getting the ball into the post... that's just how he coaches the game. I'm just trying to get back in, go out there, and do what I do best: Lot of pick-and-rolls, get into the paint, make my teammates better, make their jobs a lot easier when I come back."