A friend texted shortly after Jeff Green's buzzer-beating 3-pointer helped the Boston Celtics stun the Miami Heat 111-110 on Saturday night at AmericanAirlines Arena.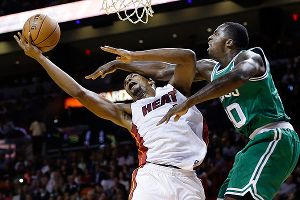 AP Photo/Lynne Sladky
Brandon Bass and the Celtics found a way to take down the two-time defending NBA champs."Well, the Celtics' season peaked on Nov. 9 and I'm OK with that," he wrote.
The friend might very well be right. For a young team in transition, beating the two-time defending champs on their home turf while scoring five points in the final second, highlighted by Green's improbable shot over LeBron James (set up by a bone-headed free throw violation by Dwyane Wade), might have provided the most memorable victory of the 2013-14 campaign.
But the friend might also be wrong. Now, don't misconstrue things; despite winning three consecutive games, we're not suggesting the Celtics are suddenly playoff bound or that expectations need to be radically altered. Here's what we do know for certain: These scrappy Celtics are going to compete almost every night out, and that's going to put them in position to win some thrillers along the way.
After all, they're 7-for-7 so far this season. Every single game the past 11 days has featured at least one nail-biting moment in the fourth quarter. Even in Boston's first win over Utah (a game in which the Celtics led by as much as 25), it was a two-possession game with less than five minutes to play before Boston motored away at the finish line. The Celtics' other six tilts were at least two-possession games near the final minute. In all three of Boston's wins, the team has rallied back from double-digit deficits. If nothing else, this team has been supremely entertaining to watch, never rolling over when they fall behind (or being too safe when they pull ahead).
Even as Boston endured that 0-4 start, first-year coach Brad Stevens swore that, with some small tweaks, the Celtics would give themselves the chance to pull out close games. Even he probably didn't expect that to happen so quickly.
Boston would be a playoff team if the postseason started today, and a fan base that reached for the vomit bag after those four straight losses to start the season is left wondering if this roller-coaster ride could be actually be enjoyable after all. Even if some still have mixed emotions when the team wins.
Yes, minds will begin to wander this morning after topping Miami. Is this team actually talented enough to compete in the East? What happens when Rajon Rondo returns? Do we need to remap expectations for this year's squad?
Let's not get too far ahead (even if Boston is coming home to three winnable games this week at TD Garden). There's plenty of work for this team to do, which Stevens hinted at right after Saturday's game by noting how Miami shot 57.7 percent from the floor.
But that only hammers home how Boston is finding unique ways to win. On Friday in Orlando, the Celtics shot 35.8 percent from the floor and leaned on their defense to out-ugly the Magic. One day later, Boston's previously stout defense gave up 110 points on 57.7 percent shooting and the team still found a way to emerge with the victory.
The Celtics have to feel good about themselves at the moment. Stevens is putting this team in position to be successful, and it has already shown strides. Stevens has always preached that true team bonding will occur at the end of tight games and cannot be manufactured off the court. His young team made some big strides as far as building confidence in the system and each other with the recent success.
"It brings us a lot of confidence," Jeff Green told reporters in Miami. "We've been on a good roll. Our team effort has been tremendous by helping each other out. That's what we need: Our communication has been there. We're just making good strides to become who we want to become. It just shows all the weapons that we have. ... It's tough for people to stop us playing the way that we played [Saturday]. We just have to keep building. It just shows us battling and getting better each game. That's what you're supposed to do throughout the season. We're going to have our ups and downs, but as long as we stay together and build as a team, the sky's the limit."
Another friend texted after the game, playfully lamenting Boston's three-game winning streak. "This team can't even lose correctly," he wrote. "But, man, they're fun to watch."
Embrace it Celtics fans. Worry about draft position after the season. Each win that Boston cobbles together, particularly like the one on Saturday night, is insanely valuable in teaching this young team what it's like to win. Establishing that foundation is just as important as finding the actual building blocks to comprise the next team.
The Celtics are going to lose a lot of heartbreakers in the fourth quarter this season, that's just what young teams do. Every now and then, they'll pull out a miracle like in Miami and there's absolutely no reason anyone should feel guilty for celebrating when they do.